If last week we talked about the Christmas Menu on the Way of Saint James, today we are going to discover which are the typical Christmas Gastronomy on the Via Francigena, in Italy. Let's see what traditional food you can't miss from north to south, and from east to west!
Typical Christmas Menu on the Via Francigena
First of all, remember that Italian cuisine, famous all over the world, is not just about pasta, pizza and ice cream. Each Italian region offers many typical dishes, very different from each other. The Via Francigena, is a route that begins in Canterbury, (England), pass through France and Switzerland, and crosses more than 1000 km in Italy.
This route is a perfect occasion to get to know the culinary differences in the "Bel Paese". Today we will discover the traditional Christmas menus in each of the regions it passes through (Valle d'Aosta, Piedmont, Lombardy, Emilia-Romagna, Tuscany and Lazio).
We start from the north: Aosta Valley, Piedmont and Lombardy.
Typical Christmas dishes in Northern Italy
Aosta Valley
As in any Italian region, the antipasti, or appetizers, cannot be missing at Christmas. In Valle d'Aosta, among the most typical, we find : Crostini with honey and mocetta (dried salami of beef, sheep or goat meat, flavored with mountain herbs, juniper and garlic), Crostini with fondue cheese and truffle, Alpenballù polenta balls filled with cheese, duck pate with orange and lardo di Arnad, an elaborate and tasty type of bacon, made with cooked and caramelized chestnuts.
As main dishes, after a hot soup with meat and vegetable broth, you can't miss the Capriolo de Valdostan with polenta (strips of deer meat macerated in red wine with aromas). For dessert the famous and delicious Mont Blanc, named after the mountain that is the symbol of this region. This delicious dessert is made of chestnuts, chocolate and whipped cream that represents the snow.
THE CAMINO DE SANTIAGO PRACTICAL GUIDE
Subscribe to our newsletter and receive our FREE Practical Guide to the Camino de Santiago. In this guide you will find all the information you need to start planning your Camino.
Piedmont
This is probably the region in which the starters are most numerous and elaborated. Among the most typical ones there are the raw meat salad, the anchovies "al verde", that is a sauce with oil and parsley, the "electric tomini" a typical preparation of a local cheese, vitel tonnè, salad, vol-au-vent with cheese, peppers in bagna cauda. This is a typical Piedmontese preparation that can be very strong. It is made with oil, anchovies and a lot of garlic, and is served hot with both meat and vegetables.
First we find the Agnolotti (a kind of ravioli) with meat sauce. For main dish it is typical to prepare the fried cod or the brasato al barolo (stewed meat with local wine) and a great variety of desserts where the hazelnuts, typical products of the region, are one of the main ingredients. Piedmont is one of the many Italian regions that stands out for its red wines such as: the Dolcetto, the Barbera, the Barbaresco, the Arneis, the Barolo and the Nebbiolo. Without counting the most famous sparkling wine for the final toast: the Moscato d'Asti.

Lombardy
As in every region, there is always a great variety of starters but the Gastronomic Panettone is becoming more and more popular at Christmas lunch. This one, which differs from the traditional Panettone because it is salty, is composed of many layers as if it were a giant sandwich. To stuff it: cooked ham, cheese, salami, tomato, lettuce, tuna, smoked salmon, artichokes in oil, mayonnaise, pink sauce.
The first dish of this, as of many other regions, is the Cappellini in brodo, that is fresh pasta (ravioli or tortellini) with meat filling and served with meat broth. Next, we find another main course very common in all Italy: the stuffed Turkey (with chopped eggs, parmisan cheese, apples, chestnuts and mortadella).
As a dessert you can't miss the sweet bread that was invented in Milan. This Christmas dessert started to be exported all over the world with great success some years ago: the Panettone.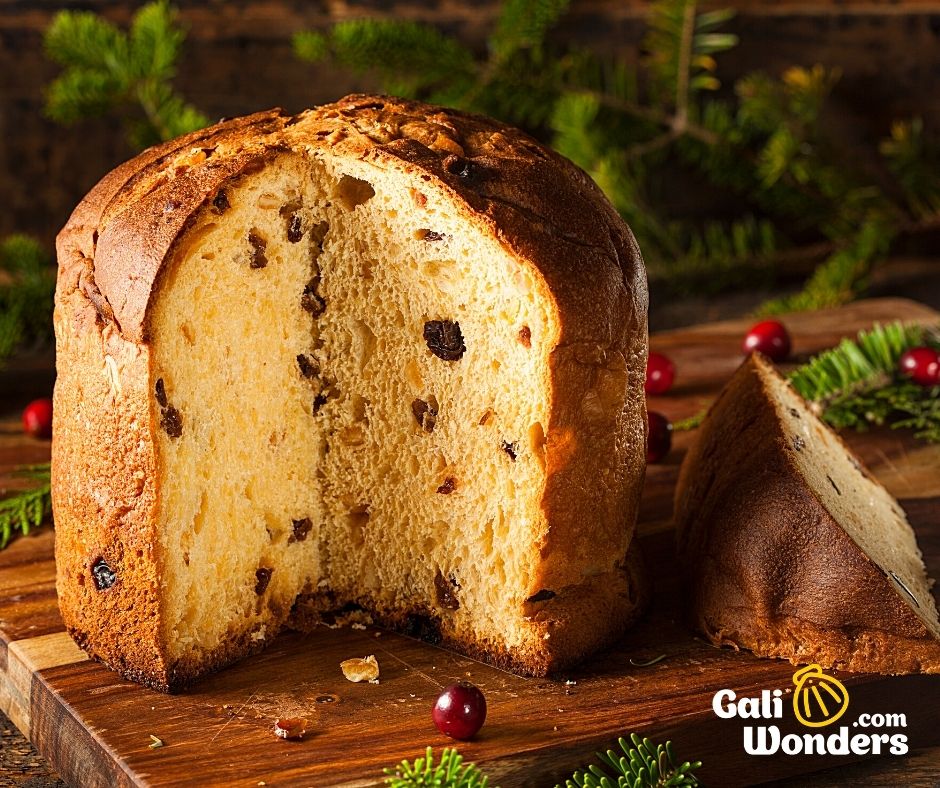 Typical Christmas dishes in Central Italy
Emilia- Romagna
This region is famous for its cured meats, such as Prosciutto crudo di Parma, the most famous Italian cured ham. So to begin with, at the Christmas table we will find many taglieri, that means dishes with a great offer of cured meats; Parma ham , salami, Bologna ham, culatello, often accompanied by local cheeses. Instead of serving them with bread, in this region it is typical to accompany them with Gnocchi Fritti, a real delicacy. Made with flour, milk, butter and salt, they are fried and served hot to make the cheese and ham fat melt.
Among the main dishes of Emilia-Romagna, we find the Capon and the Cotechino of Modena, with mashed beans and mustard.  The cotechino is a very tender traditional Christmas and New Year's Eve boiled ham. The mustard prepared in this region is very different from the French mustard and its recipe varies from city to city. It is prepared mainly with candied fruit with a sweet and spicy flavor at the same time, perfect for boiled meat.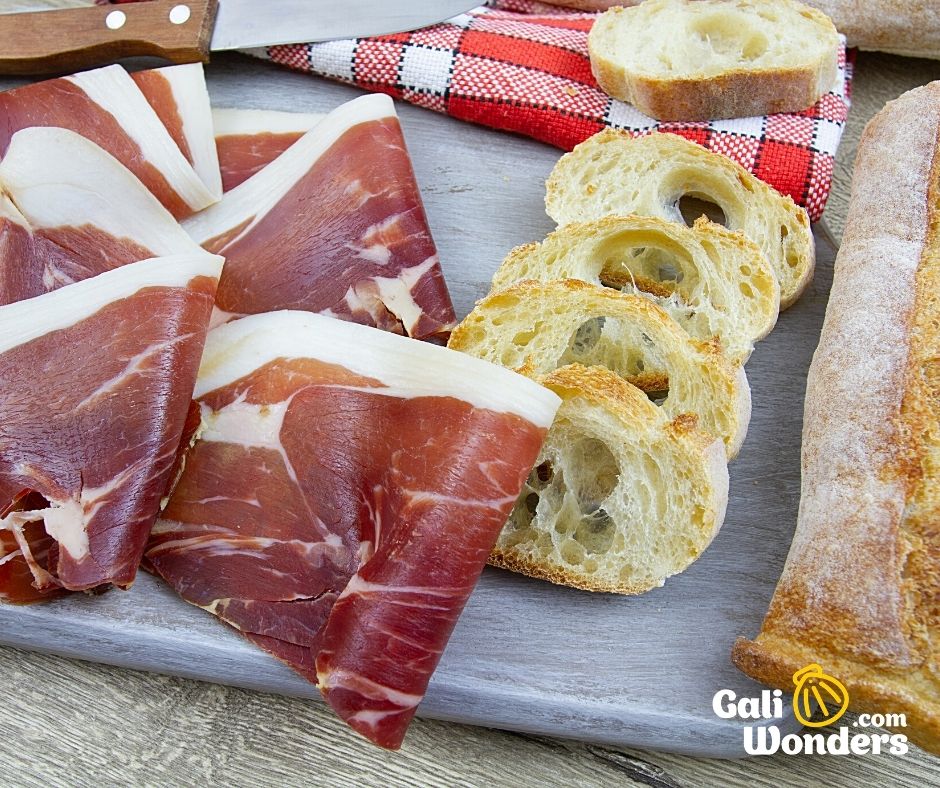 For dessert, you can't miss the "pinza natalizia": a dessert made of flour, apple mustard, honey, cocoa, dark chocolate and dried figs. Very typical is also the "tarta bonissima" (literally the delicious cake)!
Tuscany
Let's see now another region well known for its wines and the most visited one on the Via Francigena, along its itinerary from Lucca to Siena.
A typical Christmas menu in Tuscany, will have as its starter the classic crostini di fegatelli, made with a chicken liver pate. For first dish the ribollita, a vegetable broth made from cabbage and beans and also homemade ravioli with meat broth. Typical main dishes are duck in orange sauce, capon and baked guinea fowl. But also we can find snails with sauce and, near the sea, soup of seafood and fish.
For dessert we find the typical Pagnottella di Natale made with figs, raisins, nuts and almonds and the Castagnaccio alla Toscana, made with similar ingredients. A real treat!
Lazio
This is the last region through which the Via Francigena passes, since the route ends in the Eternal City, Rome. Among the starters you cannot miss a good "bruschetta", (toasted bread with tomato), bread stuffed with mushrooms, meat and bechamel. You will also be able to find eel, fried cod fillets and fried artichokes.
Among the first dishes, there is the soup with broccoli and clams, tomatoes stuffed with rice and several types of pasta (with cacio and pepe or with tuna). As a main dish you can find, eel, turkey stuffed with chestnuts and sausages, or stewed lamb. To finish among the desserts of the Lazio there is the bread pepato or yellow bread. Both are filled with nuts, raisins and chocolate. Also, honey or sugar is added to sweeten them.
Well, what do you think? Undoubtedly, this culinary offer along the Via Francigena does not leave you without options. You will be eager to start your route to discover the delights of Italian gastronomy, and Galiwonders wishes you Happy Christmas Holidays and a 2021 full of adventure. Remember that you are still on time to get your Gift Card and give the Via Francigena or the Camino de Santiago as Christmas Gift!