Here you will find some tips for you to live the best Camino.
Many pilgrims enjoy a unique experience every year along their route to Santiago.
In Galiwonders we want to help you to live the best experience while you are walking the Camino, so keep reading here to check our tips!
Find the best route for you
This walk has to be something you can enjoy and have fun with. Therefore, check all the itineraries that are available and choose the best for you. Consider not only the time you have available to complete the Camino but also the level of difficulty of the track you choose. This is not a race and being too ambitious doesn't make much sense.
Moreover, do things in a moderate way. Don't start too strong but increase the level in your walk each day in a progressive way.
Get some training before starting your journey 
First of all, if you are interested in doing the Camino de Santiago, be ready to walk!
Even thought the stages are about 20 km per day and some parts of the Camino might be harder than others, in general pilgrims with different paces and training undertake the path without any problem.
The routes are usually of an easy-moderate level and people of all the ages arrive to Santiago without much preparation. Nonetheless, it's important to understand that if you choose longer itineraries (as the Coastal Way Full or the French Way Full), the level of difficulty will increase.
In Galiwonders we want you to walk with your own rhythm, so we created some easier alternatives to the traditional itineraries such as the French Way Easy or the Portugal Coastal Easy Way.
Choose the best hour to walk
In general, if you walk the Camino, you have probably chosen a hot month during spring or summer. Whereas, this will allow you to have longer and better days of walk, it also means that temperatures will increase and you will have to be careful.
Even though Galicia is in the North of Spain, in spring and summer time the temperatures can increase until +35º so you have to follow the typical recommendations for who decides to do trekking activities. You should wear a hat and get hydrated all along your walk and try to walk in the first hours of the morning when temperatures are lower.
Vital Tips in the Camino! Get the adequate clothes and shoes
Pilgrims are special travelers. They will not have a luggage with them all the time (which will be transferred by a specific company from hotel to hotel) and they will bring with them only a small bag. For this reason, they have to think in advance about their daily clothes and wait until the following stop to check in their luggage what they need.
On the one hand, today we have a wide choice of technical clothings that are good for who practices outdoor activities, because they are lighter and fresher.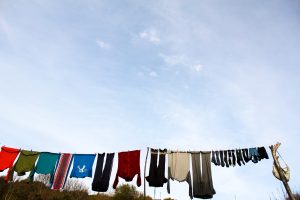 On the other hand, it's important to maintain these clothes clean as much as possible, which is easy because they get dry very quickly. During the walk in fact, it can happen that some sudden rains will get pilgrims wet and if they don't get changed immediately this can be quite a problem before ending the walk.
Particularly, the main issue pilgrims have during the walk is with their feet. Since nobody is used to walk so many hours in a row for several following days, the shoes you will choose they might be the most valuable object you will have during the Camino. Therefore, choose them carefully!
Be open minded
As well as a positive attitude is always recommended, we suggest you to be open minded with all the situations you might face during your trip. Among the more practical tips, this may seem less important, but it is not!
Besides the weather conditions, that nobody can control, you will probably find many things that won't be as you expected. But this is the good aspect of traveling, isn't it?
If you are used to have lunch or dinner early in your country, this might be different in Spain. Again, this can be a good opportunity to meet people in a local bar. You can  see how they enjoy the late afternoon "tapas", a special moment to sit down with friends and relax before having dinner.
Take your time
In order to live a unique experience, many pilgrims decide to walk the camino alone. Apart from walking at their own speed, they can enjoy this adventure in a different way.
Not only they will decide when to leave in the morning or how long to rest in the wood or along a river. They will also be more open with others, more easily approachable. As a tip for your journey, we want to remind you that you can slow down.
Get some time far from the traffic, the noise of the city and the stress of work and commitments. Take your time to explore and have your personal adventure.
Check the weather before leaving
Nowadays the forecast is quite precise and it's very important for you to check what you should expect. It's crucial for you to know what to bring with you and what kind of track you will find. Definitely it's not the same walking every day with good weather or with rain and mud!
Don't expect anything
Last but not least, you can live a much deeper experience if you won't expect anything before your trip. This will allow you to appreciate more all the things that will happen during the walk and receive them as a gift.
Observe, taste, listen and be ready to go back home a bit different. Every travel changes us a bit. It just depends on our capacity to understand it when is happening.
If you are interested in living a great experience while walking the St. James Walk, please contact us for a custom made itinerary.