It has now passed one year since the start of the Covid-19 pandemic, an event that has radically changed our lives.  One of the groups most affected by this situation, were the students. In fact, they started to take online classes, losing a direct contact with their school, teachers and classmates. As consequence, in 2020 most schools cancelled the School Trips and this contributed to produce a feeling of isolation and abandonment on the part of students. Today, from Galiwonders we want to talk about a safe alternative for a School Trip to Italy during this 2021, walking a section of the Via Francigena.
The Via Francigena: a Safe School Trip
During 2020, we experienced a worldwide crisis that completely changed our lives. The restrictive measures imposed on us were, as a result, very strict. Not only was it practically impossible to cross international borders, but we weren't even able to leave our own region or municipality of residence. This impediment to travel and move freely caused a general sense of frustration and isolation.
Fortunately, little by little we are approaching a new normality, especially thanks to the vaccination against the virus. Experts speak, always with caution, of an improvement in the situation with the approach of summer, to which we all look forward with hope. At Galiwonders, we sincerely hope that we can return as soon as possible to life as we knew it, always giving priority to the safety and health of people, as we have done throughout this period.
Through the media, we learned of the difficulties that students and families faced during the confinement and also afterwards, due to the prevention and distancing measures imposed. The desire to stay together and be able to share unique experiences with their peers and teachers, is now stronger than ever.
So let's take a look at what might be a safe alternative for students' travels during this 2021. We'll find out why walking a section of the Via Francigena can be considered a safe option and what benefits it could bring to the students.
THE CAMINO DE SANTIAGO PRACTICAL GUIDE
Subscribe to our newsletter and receive our FREE Practical Guide to the Camino de Santiago. In this guide you will find all the information you need to start planning your Camino.
What is the Via Francigena?
The Via Francigena is a millennial path that starts in Canterbury, go through France and part of Switzerland before crossing Italy for about 1,000 km. This path is a true pilgrimage that ends in Rome and has its own pilgrim credential. This, which is very similar to the credential of the Camino de Santiago, must be stamped at each stage where you stop in order to obtain a certificate, called Testimonium, at the end of the path. The minimum required to obtain this certificate is 100 km on foot and 200 km by bike.
This route is becoming more and more popular every year and pilgrims from all over the world come to walk a stretch of the Via Francigena during their stay in Italy. Without a doubt, this experience represents a unique opportunity to get to know the Italian territory at a slower pace. The walker can visit the Bel Paese outside the big tourist circuits and therefore get to know more intimate and real aspects of the territory. In Italy, where most of the Via Francigena go through, there are two main routes: from Lucca to Siena in Tuscany and from Viterbo to Rome in Lazio.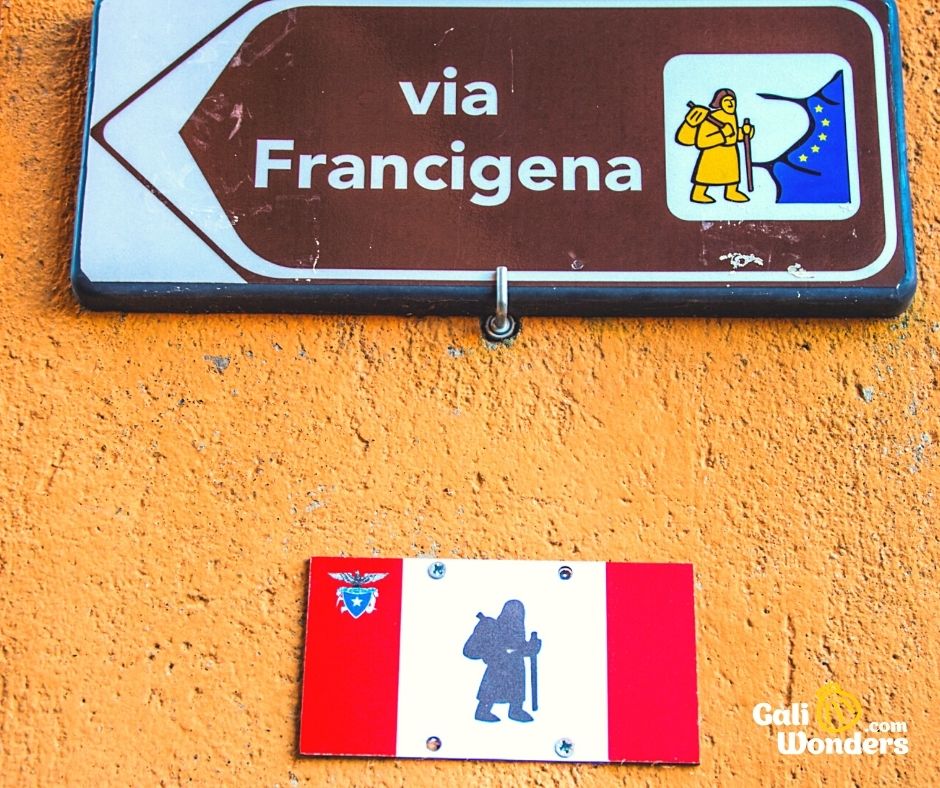 Why can we consider this type of travel a safe option?
Firstly, students, or anyone undertaking a journey such as the Via Francigena in Italy or the Camino de Santiago in Spain, spend most of their time outdoor, in full contact with nature. We know that the spread of the virus is faster and more dangerous in enclosed spaces. Therefore, walking outdoors is a safer option than other types of activities. In addition, it would be required to wear a mask during the walk itself if health guidelines indicate it.
Secondly, considering that this type of travel is targeted to a smaller audience than other types of tourism, such as beach tourism, it can be considered as a safer tourist destination. With a smaller flow of people, it will be able to count with more attention to guests and the social distances will be maintained more easily than in crowded destinations.
Moreover, the ideal time to walk along the Via Francigena does not coincide with the high season. In fact, from the end of June to the beginning of September (high season for traditional tourism) the climate is too hot to walk an average of 15-20 km per day. Therefore, for this kind of active tourism it is advisable to choose other periods with a cooler climate such as the end of April-beginning of June and mid-September-end of October.
Let's not forget, then, that all the accommodation facilities have implemented the measures of prevention and health safety since 2020. Hotels, restaurants and means of transport offer a safe service, in line with the health directives of the World Health Organization and the Italian government.
What are the benefits of a route like the Via Francigena for a School Group?
In general, it has been widely demonstrated that playing sports, practicing activities in a natural environment and sharing difficult experiences with others (some sections may require moderate physical effort) decrease stress, increase good moods and strengthen emotional bonds among participants. All of this, undoubtedly contributes to the well-being of those embarking on a journey such as the Via Francigena. In addition, it is an opportunity to deepen the knowledge of local history and culture, integrating the theory learned at school with a more practical approach.
Moreover, in the case of foreign students, this would undoubtedly be a unique opportunity to live a multicultural experience and be able to practice in a foreign language. You can find the description of these benefits in our interview to an American teacher that walked the Camino de Santiago with her a school group.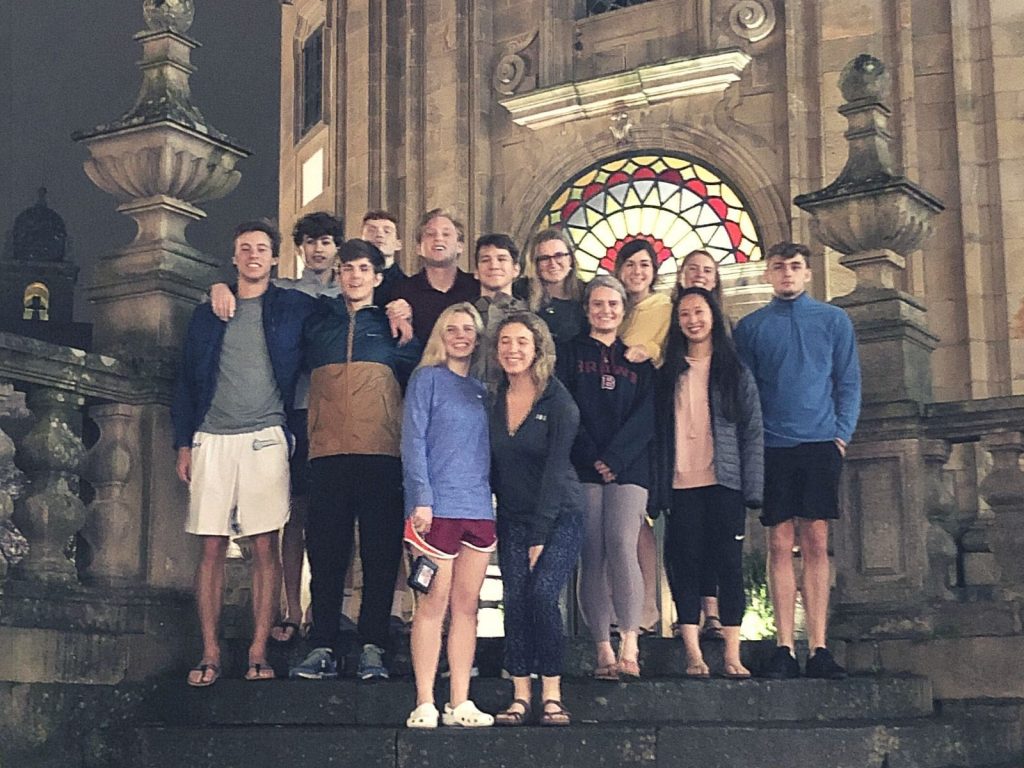 In fact, the Camino, as Molly (the teacher) explains, allowed them to discover new skills, such as perseverance, flexibility and the importance of the group. According to her, everything they shared on the walk, helped them to better cope with the coronavirus crisis. The students themselves showed immense gratitude for being able to experience this moment together, before they were forced to separate and keep social distance.
At a time like the one we are living, the figure of the student must be more central than ever. The self-confidence and feeling of belonging to a group that can come from an adventure like the Via Francigena is undoubtedly invaluable for students who have been cut off from social relations for so long.
To receive a tailored itinerary for a group along the Via Francigena (or the Camino de Santiago), please do not hesitate to contact us. At Galiwonders, we will be happy to help you create your ideal experience!