Who was Father Sarmiento? Which one is the route of Father Sarmiento? Which is the relationship between the route of Father Sarmiento and the Camino de Santiago? Why is so important to the Galician culture? Which villages are crossed by the route of Father Sarmiento?
The Route of Father Sarmiento is getting popular between hikers and pilgrims. But, was Father Sarmiento a pilgrim? In fact, Father Sarmiento was a pilgrim who started the way to Santiago in the middle of 18th Century. Moreover, he was someone who did a valuable work for Galician culture.
Who was Father Sarmiento?
Father Sarmiento, also known as Fray Martin Sarmiento, was born in Bierzo region. Although he grew up in Pontevedra (Galicia), he lived at the Benedictine St. Martin Monastery in Madrid. Father Sarmiento studied arts, philosophy and theology, and was a professor in several monasteries during his entire life.
His love for Galicia encouraged him to make that walking trip. Thus, Father Sarmiento set out a journey towards Santiago, crossing many villages that mentioned in an important travel diary: Viaje a Galicia (1745).
This book shows the route that Father Sarmiento did, starting in Pontevedra on July 19th, 1745. The curiosity of Father Sarmiento let us know many of the places he visited and watched during his trip in Galicia.
Also, thanks to his fieldwork, many people may enjoy this route, while finding about his story, work and love for these northwest lands.
What villages cross the route of Father Sarmiento?
As I mentioned before, Father Sarmiento wrote his entire travel down. In fact, he did two trips in Galicia with similar purposes. The first one (that's about you're reading today) was in 1745. Later, he came back in 1754 in order to stay during more than one year. At this time, he wanted to find more about Galician villages, its harbors and local language.
During the first trip (Viaje a Galicia 1745), Father Sarmiento was researching about a botanical specimen in Galicia. Thus, this book represents an interesting heritage for Galician culture. The second trip (Viaje a Galicia 1754-1755), served to learn more about the villages and showed his passion for his own family's land. However, Father Sarmiento focused on Pontevedra and the entire Atlantic coast to Ferrol on this second trip.
The route of Father Sarmiento
Well, as you know now more about Father Sarmiento's trips to Galicia… would you like to know what's the Father Sarmiento route to Santiago?
How Father Sarmiento did his Camino?
Father Sarmiento left Pontevedra on the 19th July in 1745, bordering the entire Salnes coast. Thus, he crossed Poio, Lourido, Campelo, Combarro, Chancelas, Samieira, Raxó, Armenteira, Dorrón, Bordóns and, finally, Sanxenxo. The following days Father Sarmiento continued towards O Grove, Cambados, Vilanova and Vilagarcía de Arousa, Pontecesures and Padrón, until reaching Santiago de Compostela.
Did you know that he mentioned all the route he followed along the coast? Moreover, Father Sarmiento showed us several beaches you may find in this historical route, such as Chancelas, Caneliñas, Silgar or Montalvo.
Looking for a real winery route? ⇐ Click
How is the Father Sarmiento route?
You can now enjoy this historical route after reading some information about Father Sarmiento's trips to Galicia. So, from Pontevedra to Santiago de Compostela, you will walk along the entire Salnes coast, following the Father Sarmiento's steps.
Father Sarmiento route is an easy itinerary, and the experience is worth it. Both the maritime landscape, and the numerous historic building, will complete such special holidays.
Furthermore, you may also have the opportunity to see the same places that Father Sarmiento visited in the past. From the ports, to the churches, the beaches and other beautiful places, it will allow you to experience a spiritual and emotional trip.
Which are the main places that Father Sarmiento route crosses?
First of all, you can complete Father Sarmiento route in 9 stages, or less if you don't have enough time. The first one starts in Pontevedra and finishes in Sanxenxo. Have you ever heard about this land where you find such smooth sand and crystalline water beaches? Otherwise, this is the perfect time to enjoy a beautiful track with marine breeze.
Would you like to know more about the stages in Father Sarmiento route?
As we've just told you, Father Sarmiento route is divided in 9 days. Along this time, you will walk along Rías Baixas estuary, while you know the most popular places on this sand and beach land.
Stage 1 – From Pontevedra to Sanxenxo (25 km.)
during his first trip to Santiago, in 1745, Father Sarmiento started to walk from Pontevedra. This is a little pedestrian city, so you should forget the car and any other kind of motor vehicle.
Sounds good? You can have a walk in the old town, enjoy some tapas in some of the many bars and restaurants you can find in the city centre. Moreover, you could see how river Lerez joins to the Atlantic Ocean through Pontevedra Estuary.
Pontevedra is ideal for those people who want to feel peace and get everywhere in less than 5 minutes on foot. Spring, summer and autumn are the best time to visit it. Anyway, winter is not very cold, but it's really rainy. Thus, if you want to enjoy this experience, we highly recommend to do during the driest seasons.
Besides the Regional Museum (an important exhibition of Father Sarmiento is collected here), you will find several churches, a Basilica, a convent, a monastery and a National Parador (hotel). Furthermore, you can find many of the villages that Father Sarmiento visited before, during his trip in Galicia.
After crossing Ponte do Burgo (Burgo bridge), you will find Poio town. Don't miss the Monastery of San Juan de Poio. Did you know that a 200 meters' mosaic is inside there representing the Camino de Santiago?
"Would you like to get your tailor-made itinerary? ⇐ Click
Walking along the coastline, you will soon reach Combarro. Have you ever heard about this seafaring village where stonecrosses and granaries seem to be touching the sea?
Ahead, you will pass Samieira, Raxó and just before arriving in Sanxenxo, you can enjoy a beach, known as Areas. Are you ready to soak your feet?
Finally, you will arrive at the end of the first stage of the Father Sarmiento Route. Sanxenxo is the most popular village for tourism in Rías Baixas. There are a great variety of hotels and spas there. Sanxenxo is a bustling place during the summer. Furthermore, beaches here are mostly urban, so as soon as you leave the hotel, you may step on white and fine sand.
Stage 2 – From Sanxenxo to O Grove (19,5 km.)
Father Sarmiento route continues towards Portonovo. You will get into a more natural and uncrowded area. In fact, you can enjoy an incredible sunset from Punta Faxilda.
Look at the distance… Ons and Onza isles are dominating the panoramic.
Moreover, you will find amazing beaches in O Grove, but A Lanzada beach is one of the most spectacular. It's a 2500 meters' sandy area, where you can also find a chapel. Father Sarmiento also wrote about this hermitage and the remains of an old lighthouse next to it. Did you know that this lighthouse was built to protect Compostela against invaders?
Apart from this, seafood in O Grove is excellent.
Do you fancy to enjoy the best quality of shellfish and Albariño wine?
To conclude, Father Sarmiento route ends today in O Grove. You may opt by walking a circular 3rd stage from O Grove to A Toxa isle. Otherwise, if you don't have time enough to spend on this sealing land, we recommend you to enjoy the rest of the day discovering this valuable isle.
Optional stage – circular A Toxa Island
Firstly, you need to know that a 146 meters' bridge connects A Toxa Island to O Grove. La Toja soap rings the bell? La Toja is mostly famous for its spa, its scallops' covered chapel (12th century), and cosmetics and soaps factories. Father Sarmiento wrote that the island seemed to be inland in the past, as you could cross when there was low tide.
Nowadays, you find a 5-star hotel, a casino, a golf club, as well as several nautical activities. So, if you want to spend a good time, this is a great place for it.
Stage 3- From O Grove to Cambados (22,5 km.)
After leaving O Grove, you will continue to the Albariño land: Cambados. The Father Sarmiento route crosses a big and living estuary. Hundreds of birds coexist within that ecosystem characterized by a saline's area. In fact, the name of Salnés was given by this particular zone.
Not only there is nature here but also some interesting buildings: As Telleiras (18th century). They are like a big kiln where people fire the clay, plentiful in this area, in order to make tiles and bricks.
The tower of San Sadurniño, the Pazo de Montesacro (18th century) or the Museum Casa do Pescador at Santo Tomé quarter, are great examples of the heritage and architectonic wealth on this stage.
Eventually, reaching the end of this journey… how about a walk through the old town? You can see Pazo de Fefiñanes (16th century).
Did you know that this was the first wine cellar to bottle an Albariño harvest, in 1928?
Stage 4 – From Cambados to A Illa de Arousa (18 km.)
After staying in Cambados, you will continue on your way along the coast for 18 kilometres. This is one of the most beautiful stages in the Route of Father Sarmiento. You will soon discover it.
Moreover, you can see one of the fewest existing tide mills in Galicia: El Molino de A Seca. Did you know that it moves thanks to the energy given by the tide strength?
You will cross today the largest bridge currently existing in Spain. It connects a beautiful island with the peninsula. La Isla de Arousa (Arousa Island) gives the origin to the name of the estuary: Ría de Arousa.
The island is famous for its canned fish industry and, especially, sardines fishing. It was a farming place at the beginning and then a fishermen village. Nowadays, Arousa island is more than an island linked by a 2 km bridge to the peninsula. It's a modern place, characterized by a strong cultural identity and an amazing natural landscape. It's a real paradise.
Going down Arousa Island is a feast for the senses. The breeze of the sea will keep with you for its 36 km of coastline. The blue and green crystalline waters soak the 11 kilometres of sandy areas and coves of white and fine sand.
"Are you going to miss it? Click here to book your tailor-made itinerary!"
Stage 5 – From A Illa de Arousa to Vilanova de Arousa (16,7 km.)
A new journey is coming! Enjoy the walk back to the peninsula. You won't miss the peculiar smell of the Atlantic coast on your way to Carreirón Natural Reserve. More and more fine sand beaches and clean waters are waiting for you.
Look at the sky or the trees, you could find a migratory bird at any place.
Then, you will reach Vilanova de Arousa. After discovering Santiago Apostle sepulcher in Iria Flavia, Vilanova de Arousa was a barrier to protect Compostela from invaders.
In short, several churches, palaces, and also towers characterize this village. Moreover, vineyards define the landscape, where sea and mountain merge.
Stage 6 – From Vilanova de Arousa to Vilagarcía de Arousa (11,9 km.)
Father Sarmiento visited many villages in his route, and Vilagarcía de Arousa is one of them.  Villa García, as he wrote, is in the middle way between Carril and Villajoan (Vilaxoán).
Furthermore, Father Sarmiento mentioned that Vilaxoán was an important port in the past. That's because it was perfect for big boats as there was enough depth of water. Currently, it's also famous, for its charm. Moreover, mussels, clams and other mollusk are abundant here.
Although this village was independent in the past, it was join to Vilagarcía de Arousa council since 20th century. Salted fish factories were the main activity here in the past, but, did you know that it was the first fisher's village to put a trough in the Galician Coast?
Moreover, between every places Father Sarmiento visited in this area, you will see San Martin de Sobrán church. You will find here a Saint Benedict Altar, religious order of Father Sarmiento.
Finally, you should not forget to visit Pazo O Rial. It's a hotel nowadays, but it was the residence of a famous marquis in the past. Father Sarmiento told that it was one of the most amazing palaces in the area.
Stage 7 – From Vilagarcía de Arousa to Padrón (25,3 km.)
The route of Father Sarmiento runs along the river Ulla on this stage. Today you will head to the north, crossing some of the villages that Father Sarmiento visited back then.
From Vilagarcía de Arousa you will arrive to Carril quickly. You will only need to cross the beach Compostela and arrive in the land of the best clams in Galicia.
Now, if you didn't do yet, don't forget to stop and contemplate the sea and the isle of Cortegada (also known as Isla de Los Laureles (Laurel isle)). This little island keeps the biggest ancient laurel forest that exists in Europe.
Then, you will see Torres del Oeste (West Towers) upriver. They protected Santiago de Compostela from the attacks coming from the Atlantic Ocean.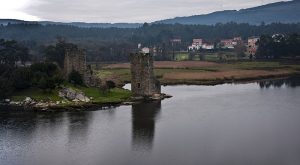 A boat departs to run the Traslatio from Vilanova de Arousa to Pontecesures.

Click ⇒ If you want to get more information about Traslatio & Spiritual Variant Route
Along the route of Father Sarmiento, you will also see the only maritime and fluvial Via Crucis all over the world. In addition, river Ulla was the origin of all the Caminos. That's because along this river, the remains of St. James sailed in a "stone" boat. In conclusion, the Ulla river is the forefather of the Camino de Santiago, as well as the cruceiros "stonecrosses" are the protectors of unequalled landscape.
We are reaching the end of the Route of Father Sarmiento, and Pontecesure, which is just next to Padrón. You will now cross the bridge over the Ulla river and after 1 kilometre, you will get to the town centre.
Moreover, Santiago de Padrón church keep the stone that gave origin to Padrón: el Pedrón. Did you know that this stone was the same one where the Santiago's disciple tied the boat that carried the apostle remains from Jerusalem?
Stage 8 – From Padrón to Santiago de Compostela (23 km.)
The last stage of Father Sarmiento Route runs along the Portuguese Camino & Portuguese Coastal Way. So, you will join many other people from here to Santiago de Compostela.
Then, you will pass Iria Flavia from Padrón, and ahead, A Escravitude. Father Sarmiento wrote about a big and nice hermitage in this town. He said that it had a high and good tower. This is the Santuario da Virxe da Escravitude. Although it has two towers nowadays. They modified it during the following decades, in fact it was built on 18th century with a sole tower. Later, the second tower was built in the 19th century.
Additionally, in Teo you will see Castro Lupario. It's an iron age settlement, but it's also related to the traslatio.
According to the legend, after arriving in Padrón, Santiago disciples were to find a place to bury the remains of Santiago. So they found this place. At that moment, it was the residence of the Queen Lupa. So, she told them to go to Sacral Mountain. They would find there some oxes to carry the remains towards Monte Libredón.
Santiago de Compostela is here!
Finally, you will arrive in Santiago de Compostela. You will complete one of the most specials routes to Compostela. You will leave those ports, rivers, towns, churches and palaces that Father Sarmiento visited in the past behind.
Following the steps of the route of Father Sarmiento is one of the most special ways to meet the country of a thousand rivers. Furthermore, you will take part of the Galician culture and breathe the air of the great Atlantic Ocean.
Apart from this, you will see different landscapes, such as sea and mountains, rivers and forests, islands and even updated towns with the same spirit than in the past.
What are you waiting to come and join to the Route of Father Sarmiento?
Don't hesitate to contact us and ask for your own custom itinerary. Galiwonders Team will give you all the keys to enjoy an unforgettable experience!