How long is the route from O Cebreiro to Santiago de Compostela? What are the distances between stages? Where can I get a map for the route?
The French Way is one of the longest Caminos to reach Santiago de Compostela. Many pilgrims decide to walk the last 100 kms from Sarria. Nevertheless, there are many people that want to know a bit more of Galicia region. For this reason, if you want to discover the Galician part of the Camino Frances, we highly recommend you to walk it from O Cebreiro.  
How long does it take to walk from O Cebreiro to Santiago de Compostela?
O Cebreiro is the first place you will visit, when you enter in Galicia through the Camino de Santiago route (Camino Frances). If you want to start the route from O Cebreiro, you will walk 160 km to Santiago de Compostela.
The route is divided into 7 stages, and you will arrive in Santiago after 7 walking days, 8 nights. You may also split the stage 5 from Palas de Rei to Arzúa in two. If that's the case, you will stay in Melide and make 8 stages instead of 7. It's up to you!
If you are ready to walk this part of the Camino de Santiago from O Cebreiro, let's discover how long each stage will last.
Keep reading!

Camino de Santiago Stages from O Cebreiro
Stage 1: O Cebreiro

→

Triacastela (21 km.)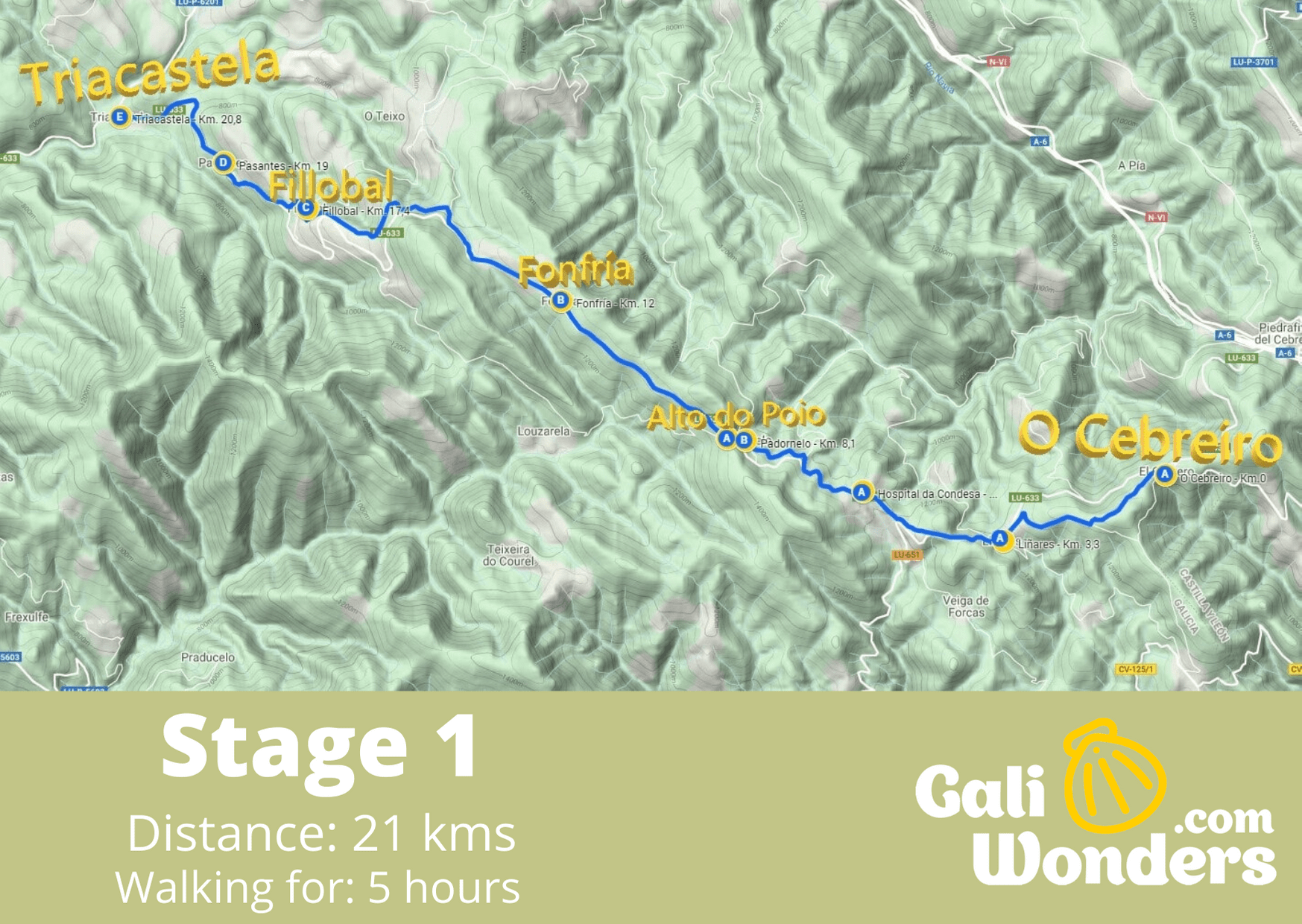 You will need around 5 hours to complete the stage from O Cebreiro to Triacastela. It's 21 km crossing colourful forests through the valley between Os Ancares and O Courel mountains.
You may see typical constructions like "as pallozas" in O Cebreiro, as well as important religious buildings, such one of the most ancient temples of the Camino de Santiago route: the Santuario de Santa María la Real (church).

The stage is easy to walk. You will not find hard slopes, but you may contemplate amazing landscapes of the recently renowned World Heritage mountains: A Serra do Courel. Its ecological relevance is enough reason to do the Camino de Santiago route from O Cebreiro.
Stage 2. Triacastela 

→ 

Sarria (18 km. or 25 km.)
Departing from Triacastela you may need at least 4 hours to reach Sarria. You will cross some small woods, streams and valleys.
There are two options at this stage:
If you decide to go via Samos, you will walk around 25 km, for about 6 hours. This variant is very nice, since you will cross amazing chestnut forests and, of course, you may visit the Monastery of Samos (6th Century).

If you prefer to walk less kilometres today, don't worry, the other option is also astounding. You will walk through San Xil, that it's one of the most beautiful valleys along the Camino de Santiago routes.
Whatever route you choose, you will make the right choice!
Stage 3. Sarria 

→ 

Portomarín (22 km.)
Sarria is the starting point to walk the last 100 km of the Camino de Santiago Frances. Indeed, you will meet many pilgrims at this small but lively town.

You may need 5 hours to arrive in the historical town of Portomarín, where you may find one of the most famous churches in the town: the Iglesia de San Nicolás.
Etapa 4. Portomarín 

→ 

Palas de Rei (25 km.)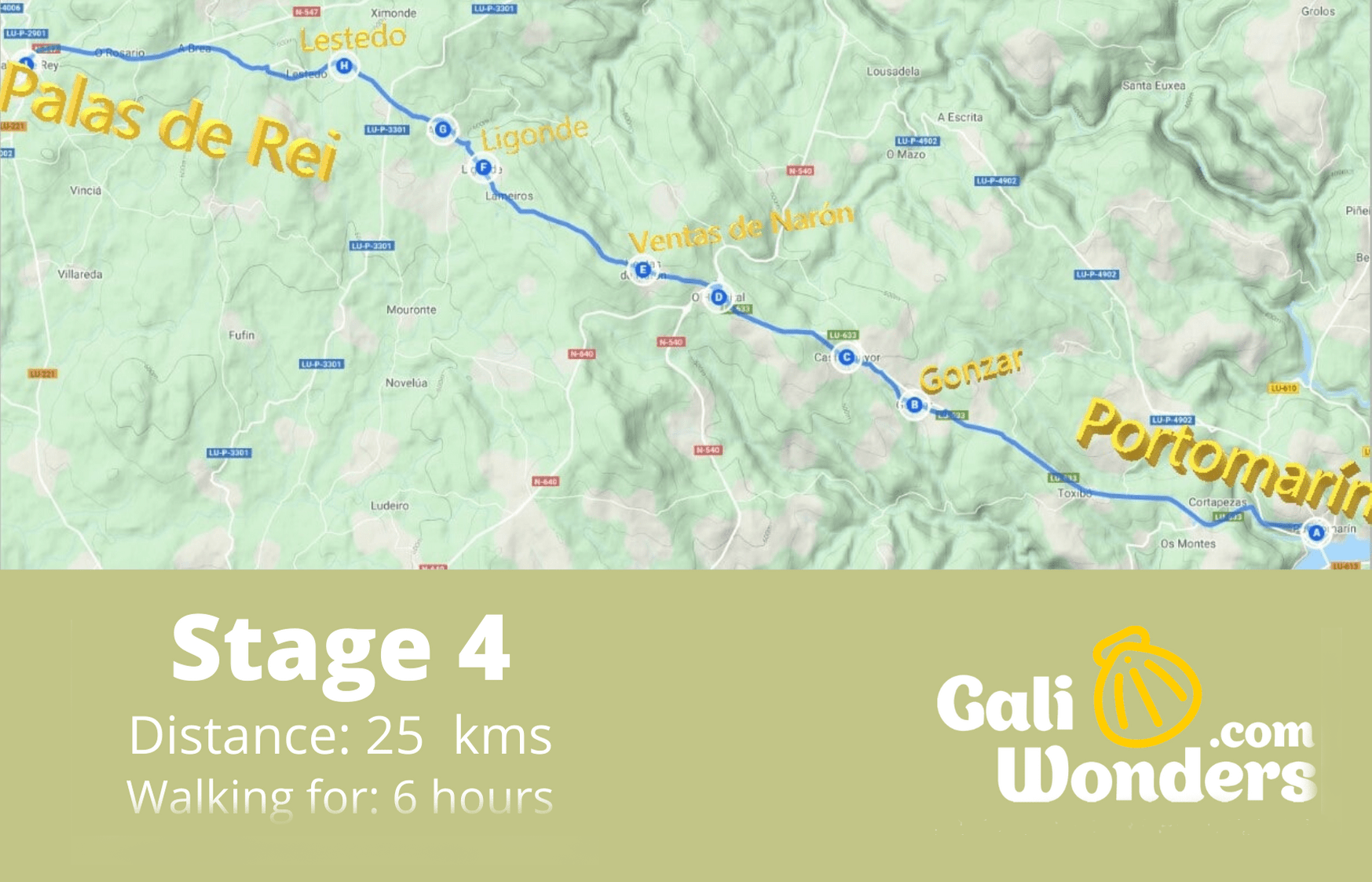 Santiago de Compostela is 94 km far from Portomarín, but fortunately for your feet, you will walk 25 km on this stage.
You may need almost 6 hours to complete this track, but the path is easy to walk. Furthermore, you will see many pilgrims during the journey, so the time will be relatively short.
Etapa 5. Palas de Rei 

→

 Arzúa (29 km.)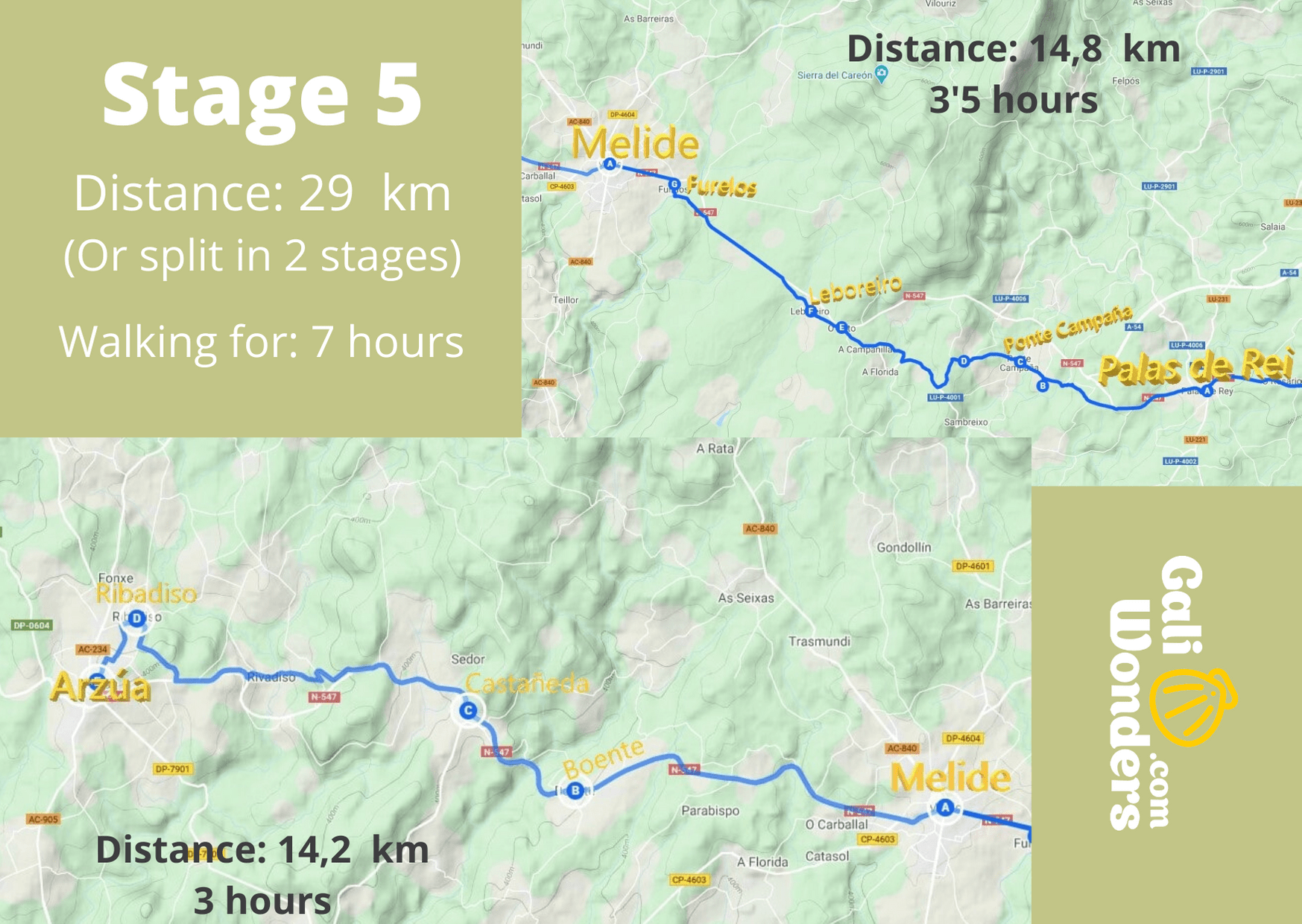 Do you like cheese? The area around Arzúa is famous for its soft and creamy cheese.
You will walk during almost 7 hours, so you should think about eating some delicious and energetic snack of local Arzua-Ulloa cheese and corn bread.
This stage will be the longest one of the Camino de Santiago route from O Cebreiro, but you will find a lot of good things to see and to eat. There are some typical sweets in Melide, such as "melindres" (the frosted ring-shaped pastries) and "ricos" (the local butter cookies).
One of the longest routes is the one from Palas de Rei to Arzua, around 29 km by walk. You can split this stage in two and visit Melide, where Primitive Way and French Way merge
Is 29 km too much for a journey? Don't worry, you can also split this stage and walk this distance in two days. So, you may walk from Palas de Rei to Melide for 14,8 km (about 3 hours and a half); and later continue from Melide to Arzua to walk 14,2 km (3 hours) on the following day. Sounds better?
Stage 6. Arzúa 

→

 Pedrouzo (19 km.)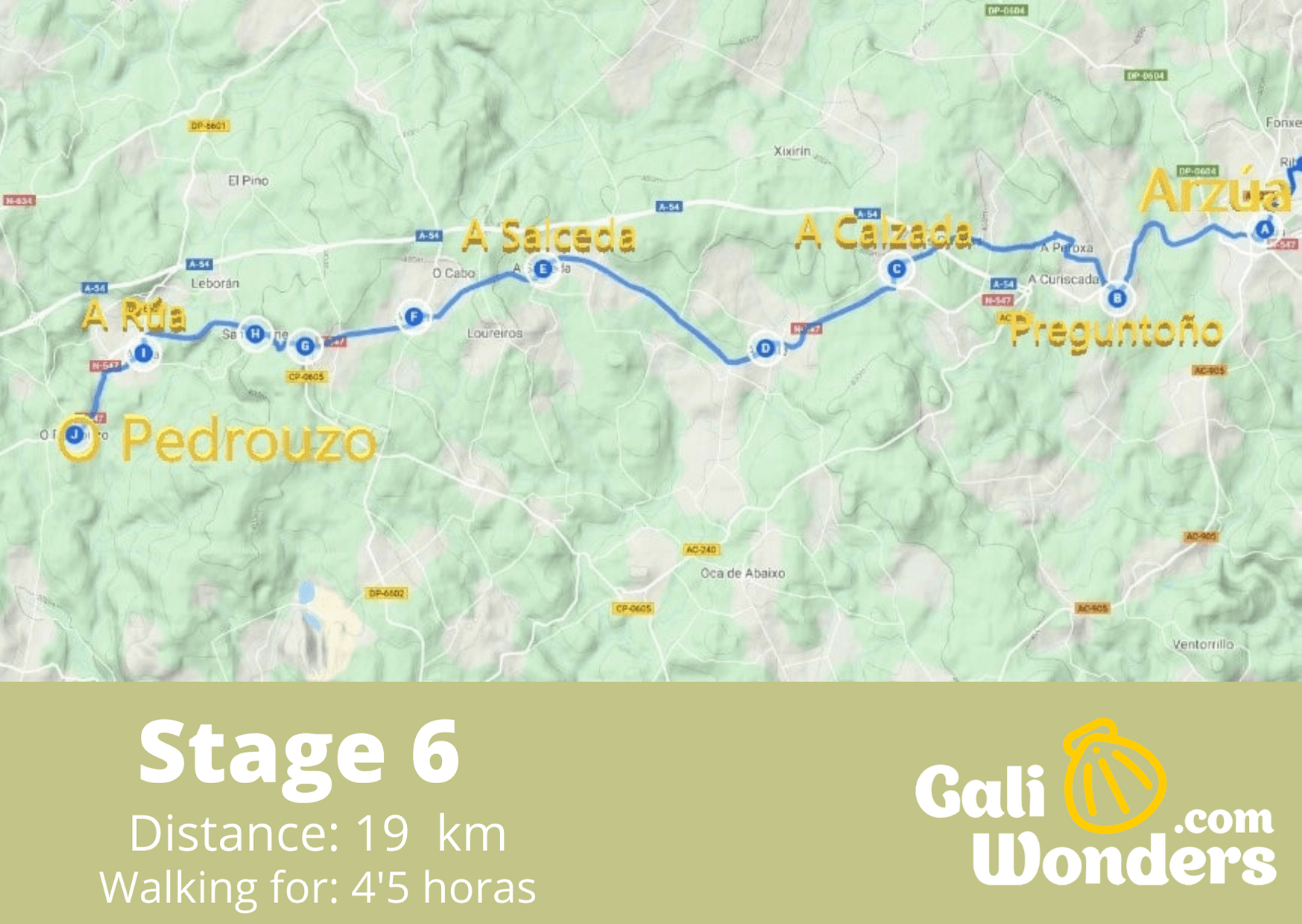 Leaving Arzúa, and also the cheese and the cakes behind, the journey continues towards Pedrouzo. Santiago de Compostela is now closer, almost 40 km to complete your pilgrimage.
You will walk 4 hours and a half across long forest paths, woods and green meadows. This stage will be the last one before entering in Santiago de Compostela area.
Stage 7. Pedrouzo 

→

 Santiago de Compostela (20 km.)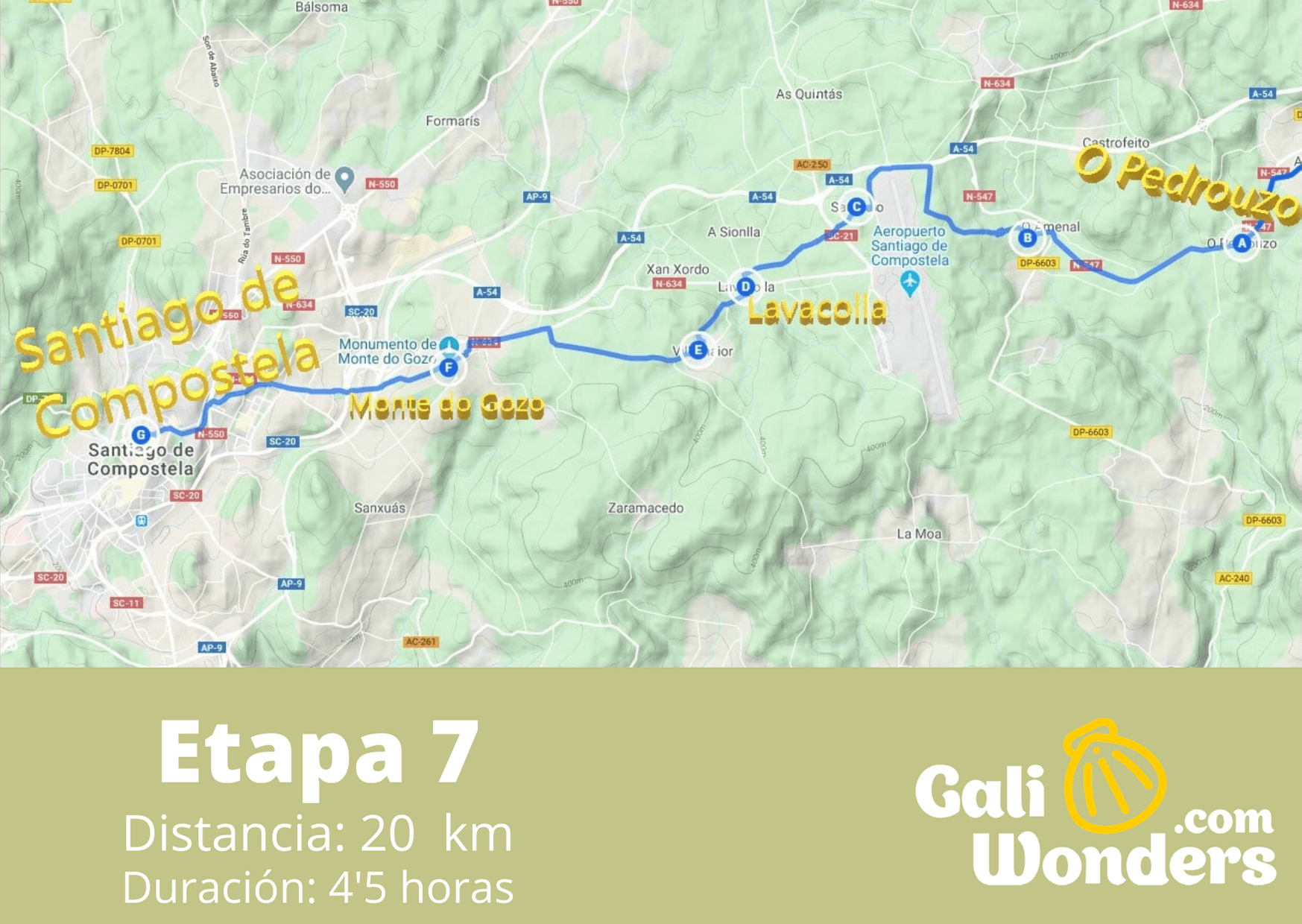 Pedrouzo is the last town before O Monte do Gozo, where you will see a wonderful view of Santiago de Compostela.
Since the last stage, you will need 4 hours and a half to complete it, because the distance is similar. Don't hesitate to try the "Padron peppers" before arriving in Santiago. They are very famous in this area, although you may do the Portuguese Way if you want to experience and discover the town where they come from: Padron.
Make the most of your time to share your experience along the Camino and enjoy the walk. Santiago de Compostela is here, so be ready to feel the emotion of such amazing adventure.
O Cebreiro: Mapa del Camino de Santiago
Are you looking for a Camino de Santiago map from o Cebreiro? Find a link below, where you can find all the information about the stages. At Galiwonders we have specifically designed the route in order to give you a better idea of the track and what you can expect.
Camino de Santiago Map from O Cebreiro

 
After 160 km… do you fancy to continue the walk?
When you arrive in Santiago de Compostela after 7 or 8 walking days, the tiredness will come to an end. The feeling of walking almost 170 km, crossing Galicia from East to West through one of the best preserved areas, it's indescribable.
As we told you before, you may complete the Camino de Santiago from O Cebreiro in 7 stages. However, if you think that some of the stages are too long for a journey, you may split them into 2 days.

Therefore, the Camino from O Cebreiro will turn easier and you may be able to focus on this green landscape. Moreover, you may meet many people to share this wonderful adventure with!
And… if you still want more, you could continue to Finisterre or do the Lighthouse Way. The view from Cape Fisterra will be worth it, for granted.
Hopefully, we helped with your doubts, but if you need more information do not hesitate to contact us.
The Galiwonders team will give you all the keys you need in order to enjoy an unforgettable experience!