Buen Camino!: Tips from an American Pilgrim
The Camino de Santiago walk has inspired many writers to capture their experiences on a book
Anne Born, New York based writer, is one of them. She has walked different Camino de Santiago routes, like the French Way, the Primitive Way… and now is planning the English Way for 2018. She has recently published her first book focused on the Way of Saint James, called: Buen Camino!: Tips from an American Pilgrim.
Let's learn a bit more about her motivations to walk the Camino, and to write a book about her experience!
➡ How many times have you walked the Camino and which routes did you follow?
I've walked sections of the Camino six times: in 2009, the Camino Frances, from St Jean Pied de Port just to Roncesvalles – and I talk about this in the book. In 2010, alone from Sarria in late December. In 2012, again in December with two of my daughters from Leon. In 2014, from Roncesvalles to Burgos with my third daughter. In 2016 alone from Burgos to Leon. In 2017, from Oviedo to Santiago on the Camino Primitivo. I'm leaving New York in April to walk the Camino Ingles.
➡ The first time you walked the Camino, which route did you choose, and why?
I walked the very first stage as a reconnaissance mission with my son. I wasn't ready to commit to walking any distance. I was too afraid, to be honest. I only knew about the Camino Frances and at that time, I had not heard there were other routes, so I walked just the first stage – and I was done! It was too hard, I was sunburned and had miserable blisters, my pack was too heavy and I couldn't keep up with my son. It was a miserable experience. I
realized in one flash that if I lost the motivation, I wasn't going anywhere. But i came to realize I could do it myself – solo. So, I came back and walked alone – from Sarria – just in time to walk through the Holy Door on December 31, 2010. That was extraordinary.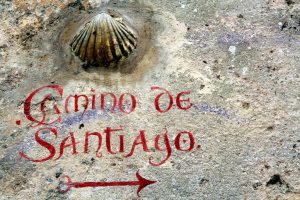 ➡ Can you explain your motivations the first time you walked the Camino? Have they changed over the years?
I wanted to see the churches. Simple. I had studied Romanesque sculpture in college and was attracted to the route to see how the sculptural programs were similar from one city to the next. I wanted to explore them all, never thinking that when I would be walking by, they would be closed! I now know that if a church door is open, you just go in. No waiting to get something to eat or shop a bit – no, no. Go into the church. Spanish churches are beautiful and I try to attend services every chance I get.
THE CAMINO DE SANTIAGO PRACTICAL GUIDE
Subscribe to our newsletter and receive our FREE Practical Guide to the Camino de Santiago. In this guide you will find all the information you need to start planning your Camino.
 ➡ Why did you decided to write a book?
My priest in New York City is also a pilgrim and he knew my other books. When I got back in 2014, he said, "If you write about it, I would like to read it." And another friend said he would be interested in helping me sell a book on the Camino. So, I started writing bits of it in 2014 and got about three viable outlines down before I just sat down and wrote the whole book. It was just a story I felt needed to be told: a collection of my experiences along with tips I thought other people could use.
 ➡ Did you know that you were going to write a book before walking the Camino, or did you decide that after the experience?
I think, yes, I did have a book in mind early on, although I might not have agreed to that then. I always walk with notebooks and I write down conversations I hear. I love listening to dialog. I've also worked as a volunteer in the Pilgrims Office in Santiago de Compostela, at two albergues (Ribadiso in Galicia and Grado in Asturias), and at The Abbey outside Pamplona – and I love talking to pilgrims and hearing their stories.
 ➡ Thinking about the title of your book, do you believe American pilgrims need specific tips, different to pilgrims from other nationalities?
Americans tend to worry by nature, I think. I know people can be nervous that nobody will speak English, that they might not find food they like or a place to spend the night. I think many Americans, more than other pilgrims I've met, tend to look for validation or a community where they can find mentors or experienced pilgrims who can tell them how to do things. Many of the people I speak with call this walk something they'd like to do but it's too hard, too expensive, too time-consuming. Or that it's just for other people. I wanted to be able to speak from my own experience as an American pilgrim – not that I am an expert on the Camino but rather I am an expert on my own caminos. I thought my stories would be helpful.
 ➡ How do you feel when going back home in New York, such a big city, after so many days of "isolation" on the Camino?
I have a trick. It's the thing I do in my very big city to call up the solitude of the Camino. I sit in empty churches. It's such a simple thing. I walk in, sit down, shut my eyes for a few minutes and let the sacred space shore me up. And it doesn't have to be my church or one I'm familiar with. I love watching the flames flicker on the candles, I try to read the inscriptions on the windows, imagining the scores of people who have sat there just like me, reflecting on a crazy world, or a crazy life.
 ➡ Any anecdote on the way?
My book is full of anecdotes! I do love how walking can be a way to find yourself at full circle. I was sitting on the porch at The Abbey, a renovation project between Zubiri and Larrasoana on the Camino Frances. My job was just to speak with passing pilgrims and telling them about the project and how it was going. A young girl walked by and I shouted to her. I asked where she was from – Indiana. "My son goes to IU!" I told her. "My cousin lives in South Bend!" She shouted back. We were in the middle of nowhere and we found common ground in just a few sentences. Another pilgrim walked by and shouted out to me, "Are you Anne Born? I read about you being here on Facebook!"
 ➡ Your favorite spot on the way?
I adore Burgos. And Pamplona. I'd have to say my favorite albergue is in Ruitelan, just before you start climbing up to O'Cebreiro. And my favorite church? It's in Portomarin. I was fortunate to be able to go to Mass there in 2012.
 ➡ Best and worst part of the experience?
Best part is the people. It's always the people. I have friends now from England, Switzerland, Korea, Italy – it's the family I built along the way. We look out for each other and celebrate the smallest things, like finding a restaurant that's open for dinner before 8:30 at night. I do love to talk to local residents of the towns I walk through too. I'll talk to everybody. And the worst? That's a tough one. Rain, I guess. It can get you down.
 ➡ Any recommendations to those pilgrims planning to walk the Camino?
Yes – I waited nearly four decades after learning about the Camino before experiencing it. If it interests you at all, just try it. Walk a bit. See if it agrees with you. I call myself "Tumbleweed Pilgrim" because I tend to tumble across Spain rather than stay on a fixed route. There's nothing wrong with that. This is an adventure to make on your own to suit your needs. There's no right way, no wrong way to do this.
For more information about the book, or any Camino de Santiago Tour, please do not hesitate to contact us.