OUR LUGGAGE TRANSFER SERVICES ARE OFFERED AS PART OF OUR COMPLETE ROUTES PACK, so unfortunately, we do not provide this as an indepent service.
Many pilgrims think that walking 20-25 km/day with a huge backpack is not ideal and they get worried before starting their Way. Sometimes, this thought push them back and some people decide not to walk the Camino for this issue. However, you don't need to change your mind because of this, we have the perfect solution for you! At Galiwonders, we always offer the luggage transfer on the Camino between stages. This way, you can fully enjoy the Way and don't need to worry about anything else!
Luggage transfer on the Camino: no need to damage your back on the way
The Camino de Santiago is becoming more and more popular each year. Pilgrims from all over the world travel from their countries, to enjoy this vital experience. Many different motivations move them, to take on this adventure: as a way to disconnect from the routine, a promise, a tribute or homage, for religious reasons, to meet other fellow pilgrims on the way…
The traditional idea usually we have in mind about a pilgrim, is that of a person carrying a big backpack. Walking hundreds of kilometres with a large weight on the back, from town to town, from one "Albergue" to the next.
But, luckily, nowadays the Camino de Santiago has evolved a lot, and there is no need to damage your back to achieve your dream. If you have back issues, or if you feel overwhelmed about having to carry that weight with you while you walk, don't worry. You can still walk the Camino, and enjoy the experience. Keep reading to discover everything about luggage transfer on the Camino de Santiago with Galiwonders.
THE CAMINO DE SANTIAGO PRACTICAL GUIDE
Subscribe to our newsletter and receive our FREE Practical Guide to the Camino de Santiago. In this guide you will find all the information you need to start planning your Camino.
Luggage transfer on the Camino: what does it mean?
The luggage transfer option on the Camino is one of the most popular services. Our transporter, will move your bag from town to town, so you can walk and forget about the extra weight on your back. All our tour packages on the Camino include this service as a standard (but if you don't want it, of course we can remove it).
How does luggage transfer work?
As mentioned, this service is included on our Camino de Santiago tours as a standard. We understand it is very importante to feel comfortable on the way. So, 1 month before the trip starts, you will receive a package with your Pilgrim Passports and Luggage Tags. You will need to write your name, surname, and booking reference on the tag, and attach it to your bag. This way, the transporter will be able to identify it correctly, and transfer it to the correct accommodation each day.
Where do I need to leave my bag?
Your bags need to be ready at the reception of your accommodation each day before 8.00 a.m. Some hotels could have a special room to storage the bags before the transporter comes. We always recommend to double check this at the reception, to make sure where you need to leave your bag.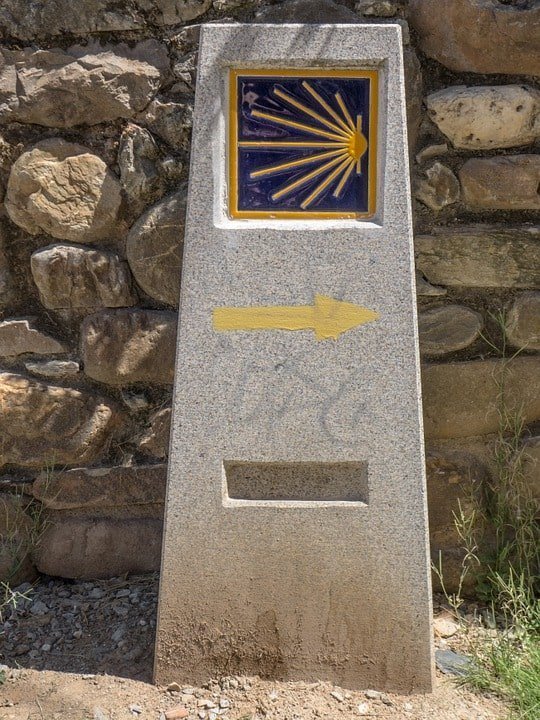 What time should I leave my luggage, and when will it be ready at the next hotel?
Your bags need to be ready for collection no latter than 8:30. Please note that the transporter could arrive later, as this depends on the schedule of each day. It is very important to be punctual: a delay could affect the whole itinerary of the day.
Bags can be delivered until 15:00 (depending on the schedule of the day). Usually, when you arrive to your destination each day, your bag should be there waiting for you. But please note in some cases (if you arrive very early, or any unforeseen circumstances), you may have to wait until your luggage arrives.
How many bags can I include?
This service includes one bag per person, no more than 17 kg. If you want to bring extra bags, that is no problem, but this would have an extra cost and you would need to let us know in advance.
What happens if I don't find my luggage when I arrive?
We have a 24 hours emergency phone, that you can use in case you have any problem on the way. If you arrive after 15:00, your bag is not there and, at the reception of the hotel they can't help you, do not hesitate to call us. We will contact the transporter to locate your luggage.
But don't worry, we never had any issue of any bag getting lost and not being located a couple of calls after. Just bear in mind that there are many different stops along the Camino, many different accommodations, bags… and human errors can happen, but we keep track on all the bags we move.
Do you have any other questions about luggage transfer on the Camino de Santiago? Please do not hesitate to contact us, a member of the team will get back to you in less than 24 hours!