Today we would like to share with you this story that María sent to us recently, after her "Glamping experience" in Galicia. Thanks María!
Glamping in Galicia: Maria's Experience
We arrived at the Sierra de Outes on Friday evening by car. The trees had a special charm, with all their branches moving on the shadows; we had this feeling of being the middle of a magic forest.
We were driving to the Glamping resort, right on the middle of the Sierra. But first, we had to find the country cottage Perfeuto Marí­a, to get our keys and where they would indicate us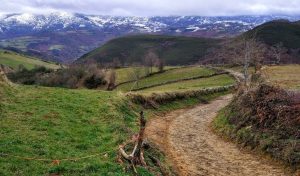 the exact location of our cabin.
We found it very easily, even if it was almost dark, as there were so many indications on the way. Once there, a really nice Galician woman welcomed us: she came to show us the way to our cabin, and asked what time we wanted breakfast to be served.
We were completely fascinated when we saw our glamping cabin inside: all the charm of a rural country cottage, but with all the amenities of a luxury hotel. A big king size bed, sofa, plasma screen, Wi-Fi but the best thing was the big Jacuzzi we found on the bathroom, that was amazing.
After checking in, we went to Noia to have dinner. Noia is a charming fishing village, just a few kilometers away from the Glamping resort. There we had typical Galician food with cider, great value for the money.
Saturday morning, the same lady came to our cabin to serve breakfast at 10:30, as requested. She was as smiley and talkative as the previous day, and she was bringing a big panier. When we opened it, there were toasts of handmade bread, butter, jam, chocolate sponge cake, orange juice, milk, coffee. We had breakfast on the terrace, from where
we could contemplate the trees and listen to the birds singing. It was quite sunny and warm, so it was really pleasant breakfast.
THE CAMINO DE SANTIAGO PRACTICAL GUIDE
Subscribe to our newsletter and receive our FREE Practical Guide to the Camino de Santiago. In this guide you will find all the information you need to start planning your Camino.
After that, we went horse-riding as planned, to "Estivada Ecuestre. I was looking forward to that, and I wasn't disappointed at all. The owners were really nice, they decided to start their equestrian business a few years ago (well, actually it was the wife, and her husband just followed her on this adventure). We noticed they were earning enough money for living, and they were really happy working on what they loved.
They taught us some basics to ride a horse, and then we went for a ride on the Sierra de Outes. The landscape was stunning, and the feeling of being there in the middle of the mountain, incomparable.
When we got back, we took so many pictures with the horses, stroke them. We really recommend it, to get away from
 the stress!
After all the exercise, we went to a typical restaurant in Muros, where the portions were really generous and delicious! The waiter, really kind, asked us if we wanted to bring back home what we couldn´t eat, on a box, and that´s what we did. Strongly recommended and cheap!
In the afternoon, we went to visit some of the places around. First, we went to Carnota beach, and there was absolutely nobody else around. I laid down on the sand, just to listen to the sound of the waves. The beauty and the peace on that place was incredible.
Then, we went to the Ézaro waterfalls, the only ones in Europe that flow into the sea; we enjoyed the view laying on a big rock, letting the sun embrace us; it was delightful. We also went to the viewpoint on the top, just before heading to Corcubión and Cee. These are lovely fishing villages full of charm; we strongly recommend to wander around their streets.
When we were about to go back to the Glamping resort, I received a text message from my aunt. She was telling me that there was a really nice ceramic studio in the area, and we decided to go there (but we didn't have a lot of expectations on that to be honest). But we were wrong, it was a magic place.
Nacho Porto told us that he had been creating ceramic sculptures since he was 20 years old; all of them were really genuine, and each one of them has a story that Nacho will kindly tell to anyone interested on his work. True work of art. He showed everything to us, even if he was on a hurry as he had to go to the theatre in Santiago de Compostela.
It was an unforgettable experience that I would recommend to anyone. I am sure we will go back there again one day, as there are still many wonders to discover in the area.
Thanks Galiwonders, for organizing such an amazing trip for us!
For more information about this Glamping Experience, please check here