The French Way is the most popular route of the Camino de Santiago
Let's discover some of the most interesting spots along the 800 km of the French Way
The Way of St James (or Camino de Santiago) has played a very important role throughout history in the cultural exchange between Spain and other European regions, specially during the Middle Ages. Although there are many different pilgrimage routes going to Santiago de Compostela, the French Way is the most traditional and well known internationally. The starting point of this itinerary of 780 km, is the French village of St Jean de Pied de Port.
The French Way connects Southern France with Santiago de Compostela; the route passes through very important places, both in terms of culture and landscape, such as Roman bridges, monasteries, cathedrals always surrounded by a green colored background. There are countless attractions on the Camino, and we strongly recommend to those Pilgrims with a bit of time, to stop and enjoy some of these wonders.
Today we have prepared this list for you, with some of the jewels of the French Way..
THE CAMINO DE SANTIAGO PRACTICAL GUIDE
Subscribe to our newsletter and receive our FREE Practical Guide to the Camino de Santiago. In this guide you will find all the information you need to start planning your Camino.
Royal Collegiate Church of Roncesvalles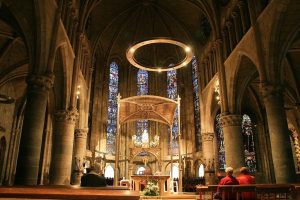 This Gothic temple was built on the XIII century, by order of the King Sancho VII the Strong. It is considered to be the best Gothic building in Navarra region. Inside, you will be able to contemplate the sculpture of Our Lady of Roncesvalles, that was elaborated in Toulouse on the XIV century.
Romanesque Bridge (Puente de la Reina)
This Romanesque bridge has six semicircular arches and five pillars, and it is one of the nicest and most iconic constructions of the whole Camino. It is located in Puente de la Reina, where the French Way and the Aragonés Way join together. The name of this town (Puente de la Reina means Queen´s Bridge) finds its origin on the XI century, when the wife of the King Sancho García's II ordered to built it, in order to help Pilgrims to cross the bridge.
San Millán Yuso and Suso Monasteries (San Millán de la Cogolla)
These monasteries were declared a World Heritage Site in 1997. Not only because of their architectural beauty, but also because it is considered to be the place where Spanish language was born (the first manuscript in Spanish was found there). You will need to walk about 15 extra km, but it is really worth visiting.
Monastery of Santo Domingo de Silos
This Benedictine monastery was built on the VII century. Many historical events took place there, like the Muslim invasion, but it is still in perfect condition. Its cloister is a representative sample of Romanesque art in Spain. It also has a museum, where you will be able to see the holy chalice used by Santo Domingo de Silos, and the tympanum of the door, that was the origin of the whole Monastery.
Archaeological site of Atapuerca (Burgos)
This archaeological site is only 15 km far from Burgos, and it was declared a World Heritage Site; it is also a Site of Natural Interest and a Heritage of Cultural Interest. It is probably the most important archaeological site in Europe. The discoveries that took place in Atapuerca had a great impact on human evolution science.
Burgos Cathedral
Burgos Cathedral is a World Heritage Site, and one of the most popular buildings of Spain. Its construction started in 1221, and nowadays it is one of the most representative buildings of the French Gothic in Spain. Inside, we can find work of art made by great artists, such as Gil de Siloé.
Leon Cathedral
It is also known as the Santa María de la Regla Cathedral; this impressive building was built on the XII century, and its stained glass windows are really well
known (some of them are still preserved from its origins). It has 134 large windows and 3 rose windows.
Episcopal Palace in Astorga
This Palace was built by Antoni Gaudi between 1989 and 1915 using grey granite from El Bierzo region, following a neo-gothic style. The Cathedral of Astorga is just beside it, another place you must visit if you are doing the French Way.
Samos Monastery
This Monastery from the VI century is located in the province of Lugo. It is one of the most important ones in Spain, due to its various styles: pre-Romanesque, Gothic, Renaissance, baroque and neoclassical. This is because it experienced many different restorations throughout the years.
Santiago de Compostela Cathedral
We don´t need to say that the most iconic jewel of the whole French Way is the Santiago Cathedral itself, the final destination of all Pilgrims. According to the tradition, the remains of Saint James the Apostle were found in 813, on the same place where the Cathedral was built. An authentic work of art, outside but also inside.
For more information about the French Way or any route ofthe Camino de Santiago, please do not hesitate to contact us.