Christmas lunch is one of the best moments of the year. Some people celebrate it on Christmas Eve, with a big dinner on December 24, and others prefer to gather for lunch on the 25th. In any case, the rich menu that we enjoy both at home and at the restaurant is a real treat! Appetizers, meat dishes, fish, seafood and an infinity of desserts await us to celebrate this holiday with the family. Let's discover today what are the typical dishes of the Christmas Menu on the Camino de Santiago. Enjoy!
Christmas menu on the Way of Saint James
If you celebrate Christmas in Galicia, the region where all the routes of the Camino de Santiago end, you will be very lucky because you can try some local products of great quality and freshness. At the top of the list we find the great offer of seafood, coming as much from the Galician coast as from its many Rías. This is followed by the main dishes, that can be either of meat or fish. To end this wonderful meal, we find an infinite number of desserts. Let's see in detail which dishes are among the most popular during Christmas.
Seafood
Among the seafood that you can traditionally find in the Christmas Menu, there are: the mussels, crabs, clams, prawns, shrimps and the very famous percebes. Also typical of Galicia, and strongly connected to the Way of St. James, is the vieira rellena, a scallop shell stuffed and baked in the oven, a real explosion of flavors!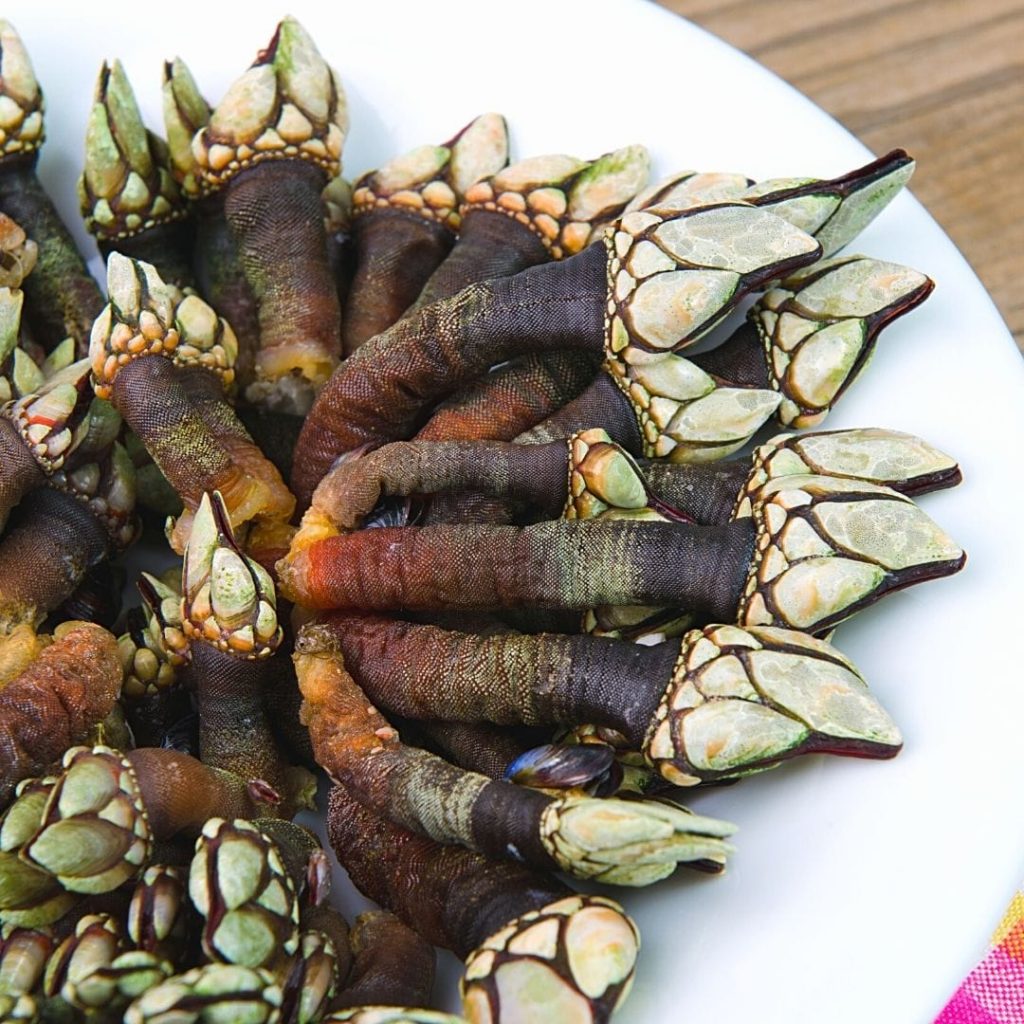 It is almost unbelievable to think that these delicious dishes, often affordable only for some wallets, until the second half of the 20th century were not considered in the local cuisine. Luckily , this change in the tradition, today allows us to taste products of very high quality. The incredible taste of this seafood, makes its preparation is very simple. In order not to modify in any way their natural taste, the typical recipe requires simply to boil them with water and a bit of salt. They are so tasty that there is no need for sauces or other seasonings. Try them to believe it!
Moving on to the main dishes, we can choose between meat and fish, both excellent options for our Christmas Menu on the Camino de Santiago.
THE CAMINO DE SANTIAGO PRACTICAL GUIDE
Subscribe to our newsletter and receive our FREE Practical Guide to the Camino de Santiago. In this guide you will find all the information you need to start planning your Camino.
Meat
Quail, are becoming more and more fashionable especially in hunting areas. This is a very refined and delicate dish to cook, which will surprise you with the tenderness of its meat. Among the most popular, however, we find the turkey, usually stuffed with carrots and glazed chestnuts, plums and apples. This dish of slow cooking in the oven, is often accompanied by a delicious sauce with which the meat is covered. It is served with potatoes and is one of the main protagonists of the Christmas menu. The most famous is the one of Vilalba, starting city of the Northern Way, last 100 km.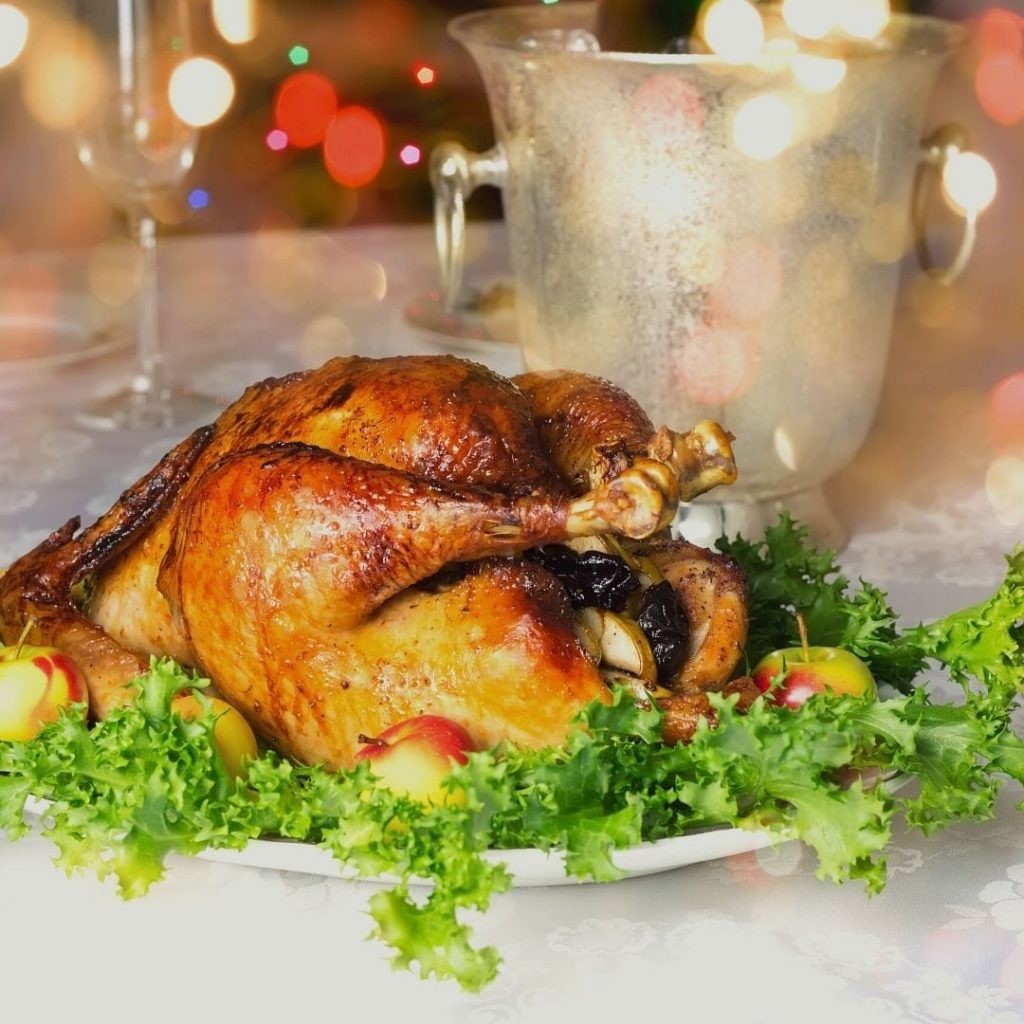 Other typical dishes are the lamb, the lacón con grelos, a smoked leg of pork that is served with seasonal vegetables (grelos) similar to bitter greens, and veal shank. The latter is cooked stewed for many hours, until the meat releases a cooking juice and is so soft that it can be cut with just a fork. It is accompanied by baked potatoes, sometimes pears cooked in wine and a good glass of local red wine. A real delicacy!
Fish
Among the fish dishes that you can find in the Christmas menu there is a great variety. Cod is among the favorites in this region so bound to the sea. There are many ways to cook it even though one of the most traditional dishes is cod with cauliflower or broccoli. Other fishes include sea bass, sea bream, salmon, monkfish, tuna and many others.
Continuing with this long food marathon, you will finally get to the Christmas desserts!
Desserts
Among the typical desserts you can find the simple but delicious filloas. These, which are similar to crepes, but much thinner and more delicate, can be accompanied by honey, whipped cream, chocolate, jam or ice cream. Delicious!
There are also some desserts that have become more and more popular in recent years, such as the traditional tiramisu or chestnut tiramisu and the homemade nougat with coffee liqueur or almonds. Moreover, you will find an endless series of typical desserts such as polvorones, hard and soft nougat and pastel de yemas (small cakes with egg and sugar). We cannot forget the typical Roscón de Reyes, a big doughnut-shaped cake decorated with candied fruit, which can be filled with cream or custard and that is traditionally eaten on Epiphany, January 6.
Liqueurs and Coffee
As tradition wants, we cannot get up from the table before a good "chupito", a shot of one of the many typical liqueurs of this area. Among the most famous are coffee liqueur, herb liqueur, orujo and aguardiente, similar to Italian grappa. This is the so called moment of "sobremesa", moment in which drinking the right quantity of alcohol, help to digest and to have warm and funny conversations.
To know more about the food on the Camino de Santiago, do not miss this post!
This is then followed by a good cup of coffee. Now, the more traditionalists, will serve it from "de pota", a recipe in which the coffee, ground coarser than usual, is left to macerate in hot water and then served filtered (or not) directly into the cup. If we then want to end in full Galician tradition, a night queimada cannot be missed.
The queimada was considered a real healing potion. Made of alcohol (aguardiente), sugar, orange or lemon peel, and coffee beans, it is "queimada", which means burned, until it loses its original alcohol content and obtains a very sugary drink. This is served hot, after pronouncing a magic ritual. Read this post to learn more about the Galician traditions and its magic.
If your mouth is watering after reading what the Christmas Menu on the Camino de Santiago consists of, don't worry. After so many kilometres walking, you deserve a good meal to celebrate. We also remind you that you can give the Camino as a gift for Christmas to your beloved ones. Contact us to find out more.
We would like to take this opportunity to wish you Happy Holidays this Christmas from all the staff of Galiwonders!