The "Certificate of Excellence" award was given by Tripadvisor at the end of May, and Galiwonders turned out to be one of the winning businesses! We want to thank all our customers who have valued us so positively, and assure them that we will continue to do everything possible to maintain the same level of excellence in the coming years.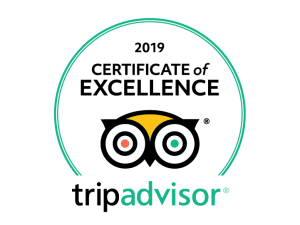 What is the Certificate of Excellence?
The Certificate of Excellence is based on the opinions and voluntary scores of customers who appear on the Tripadvisor website, and who have consistently valued the business positively over the previous year.
So thank you very much to all of you!
This certificate rewards the quality of service provided by businesses that work in the hospitality sector on an ongoing basis.
Like every year the winners were announced at the end of May, so we've just found out!
THE CAMINO DE SANTIAGO PRACTICAL GUIDE
Subscribe to our newsletter and receive our FREE Practical Guide to the Camino de Santiago. In this guide you will find all the information you need to start planning your Camino.
How many businesses receive this prize?
Very few businesses receive this certification (around 10%) and cannot apply.
Among those who can obtain this award, in addition to hotels, hostels, B&B, and specialty lodging, there are also restaurants and businesses that offer particular experiences.
 What are the requirements to win the Certificate of Excellence? 
The Certificate of Excellence is awarded only when the business:
Have a high TripAdvisor score of at least four out of five.
Present a minimum number of opinions
The age of the TripAdvisor profile is at least twelve months in total.
How does the prize recipient selection process work?
The Tripadvisor platform uses different elements in relation to the contents of the users.
Mainly, the algorithm that formulates the data to choose the winner considers the quality and quantity of opinions, if they are recent and also the seniority period of the business on the Web.
Many other factors are also valued, such as, for example, the animal welfare policy, or if there is some type of fraudulent activity that can be related to the profile.
Why is the Certificate of Excellence important?

The Certificate of Excellence is an award granted solely for merit to those businesses that have obtained good scores from their customers. This means that you cannot buy it, and you would not be able to obtain such an insignia without a series of established requirements.
This allows greater visibility to the effort that businesses put into their work, that depends on nothing more than their dedication and professionalism.
In Galiwonders we value the opinions and comments of our clients, and we want to continue offering the best service to all those who choose us.