We all have our reasons to walk the Camino de Santiago. They might be too intimate to be able to tell others about them. However, at Galiwonders we want to share with you our 20 reasons for doing the Way of Saint James and we would like to know yours if you want to leave us a comment below. Let's start!
20 Reasons to walk the Camino de Santiago
1. Live an unforgettable experience
Every pilgrim who has lived this adventure recognizes that it is something unique and that he will never forget. Both the first kilometers and the last ones will remain engraved in our minds forever. As we begin our journey we are very excited, full of strength and expectations. But it will be in the following days that we will begin to understand the real meaning of the way, immersing ourselves in this experience. Perhaps we will feel pain and endure the effort that the journey entails. However, when we arrive at the Cathedral, the emotion will be so strong that it is very probable that we will break down and cry.
Besides, what we experience along our route is something very different compared to our daily life. We will find many people who follow the same route. Other pilgrims who suffer or enjoy it just like we do and with whom we will most likely stop to talk and share all of our feelings.
THE CAMINO DE SANTIAGO PRACTICAL GUIDE
Subscribe to our newsletter and receive our FREE Practical Guide to the Camino de Santiago. In this guide you will find all the information you need to start planning your Camino.
2. Having the possibility to meet many people
Many are surprised by the ease of meeting other pilgrims on this journey. With no doubt, this is one of the reasons we like the most to do the Way of Saint James. In fact, unless you are following a very low-traffic route at a time of year when there are almost no pilgrims, it is very unlikely to not meet other pilgrims.
All, or almost all, pilgrims who decide to follow one of the Xacobean routes to Santiago de Compostela want to share their stories, knowing the reasons why other pilgrims do the Way of St. James. All delighted to meet new people both on the way and in the places where the stages end. In fact it is very common to see pilgrims who, at the end of their stage, sit down to have a drink together and talk about their experiences and sensations.
3. The physical challenge
One of the reasons that push us to undertake this type of experience is to be able to demonstrate something to ourselves, and sometimes to others. It is not easy to follow a route of 5-6 days walking an average of 20 km/day, (much less if we choose a longer route). Anyway, at Galiwonders we are sure that sometimes we need to look for some motivation that will make us leaving our comfort zone. Only this allow us to overcome life's obstacles and surpass what we thought were our limits. This makes us grow, strengthens us and helps us to have more confidence in our abilities.
4. To be able to discover wonderful places
One of the reasons we value most to do the Way of Saint James is the possibility to know new territories and enjoy the wonderful places you will cross along your way. Each route offers incredible views and you will not go wrong whatever your final choice is. If you are unsure about which route you should choose, you can take our Test of the Way and discover the perfect route for you. If you prefer a route with views of the coast, we recommend the Full Northern Way or the Portuguese Way along the coast, if you prefer a more social route, the French Way is undoubtedly what you are looking for. If you want a tougher physical challenge, with important climbs and mountain landscapes, you should choose the Primitive Way.

5. Connecting with tradition and local people
This is undoubtedly one of the reasons we value most at Galiwonders. By doing the Camino de Santiago we can connect with the local history and culture, meet incredible people who transmit their great love for their land and who are happy to share these traditions with us. This is not a one-way experience, quite the contrary. Both the pilgrims and the local people we will meet on the Camino are enriched by this experience. The Camino is much more than just a route marked by yellow arrows. It is an element of continuity with the past, a link with history and religion and above all an opportunity for growth for those who live the Camino in its entirety.
6. Having time away from work and the stress of daily life
Who doesn't look for some time for themselves from time to time? Doing the Camino de Santiago, allows you to get rid, at least for a few days, of the daily chores, schedules and deadlines at work.  In short, we take a step away from a whole series of factors that cause stress and anxiety, we are free! The only thing you have to consider is the time you will need each day to walk the distance to the next stage and evaluate your physical conditions. We can finally slow down those frenetic rhythms we are all so used to and enjoy some peace and quiet.
7. Living an experience of self-awareness
Indeed. This is a unique opportunity to get to know yourselves deeper. You will be able to reflect on what you really need, what you want, what makes you really happy and what doesn't. There are many pilgrims who have changed their lives after doing the Camino de Santiago, it could happen to you too! Sometimes we lack the possibility to consider what we really want, and we settle for choices that seem easy but can condemn us to a life of sadness and dissatisfaction. It's time to give voice to your inner self, listen to what you really wants, and create a space for dialogue without judgment. Take advantage of this opportunity to verify who you are and what you want from your life!

8. Enjoy one of the best eno-gastronomy
The body, especially if we will need it strong and in good shape to travel so many kilometers, will also need its reward. Fortunately you are in a territory famous for its delicious traditional dishes and good wine. At the end of your day on the way, you will be eager to enjoy a tasty typical cuisine and we assure you that you will not be left unsatisfied. Galician empanadas, octopus, seafood, meat and fish dishes, and much more await you along your route to Santiago.
9. To be able to connect with your most spiritual and religious side
The origins of this pilgrimage are of a religious nature although over the years the Way has opened up to other motivations as well. In 2019, 89% of the pilgrims were guided by religious or spiritual motivations to walk their routes or travel them by bicycle. In fact, this is one of the requirements to obtain the Compostela at the end of the Way. If you are guided by religious reasons, you cannot miss the Way during the Xacobean Holy Year 2021. This is an event of enormous importance for the faithful and a time when many pilgrims from all over the world gather to celebrate it.
10. Finally listening to the silence
It may seem like an oxymoron, but feeling the total absence of noise is something very important in our lives. We live in a very peculiar historical moment. We have within our reach an excessive amount of information. Images and sounds assault us, traveling at such a high speed, that sometimes they do nothing but confuse us more. Without a doubt, we need to be able to get away from so much noise in order to hear again what really matters. Even if it is simply the silence of the forest or the tranquility of a field. We can finally disconnect and return to a state of peace, far from the stress of our daily lives.
11. To make the same pilgrimage that centuries ago was made by pilgrims from all over Europe
If you think about it, it's quite amazing! You're following the footsteps of those pilgrims who walked this route in the Middle Ages! If you want to know more about the history of the Camino de Santiago don't miss this post. You will be able to understand even more the importance of this pilgrimage in the Christian tradition and live a connection with all the other thousands of pilgrims who for centuries have chosen to undertake the same path.
12. Have free language classes
As we said before, on your way you will find thousands of pilgrims from all over the world. According to the statistics of the Pilgrim's Office in Santiago de Compostela, in 2019, 347,578 pilgrims came to ask for their Compostela. Of these, only 42.1% were of Spanish origin. So that leaves 57.9% of foreigners who made the journey. Without a doubt the way is a perfect opportunity to practice other languages and open up to new cultures.
13. Arrived in Santiago to visit the Tomb of the Apostle Santiago
For every pilgrim who takes this route for religious reasons, arriving at the Cathedral of Santiago de Compostela and, in particular, being able to visit the Tomb of the Apostle St. James is a unique event. If you also want to do the Way in the Holy Year 2021 the figure of the Apostle will be even more central. Not only will the Holy Door be opened from December 31st 2020, and will remain open all 2021, but also there will be more masses and it will be possible to obtain the plenary indulgence. To learn more about the Holy Year 2021, read on here.
14. Visiting UNESCO heritage cities, such as Santiago de Compostela
The Cathedral of Santiago de Compostela is internationally famous because of its tradition connected to the Camino de Santiago. It is also a unique example of Romanesque style architecture in Europe and also of the Baroque style resulting from the 17th century renovations that partly transformed its appearance.  Declared an Asset of Cultural Interest in 1896, it will leave you speechless, as will of course the entire old town.
Did you know that the historic center of the city of Santiago de Compostela was declared a World Heritage Site by UNESCO in 1985? Don't miss a visit to this beautiful city, nor to the other cities through which the route passes and also declared UNESCO Heritage, such as Cáceres, Salamanca, Mérida, Lugo, Oviedo…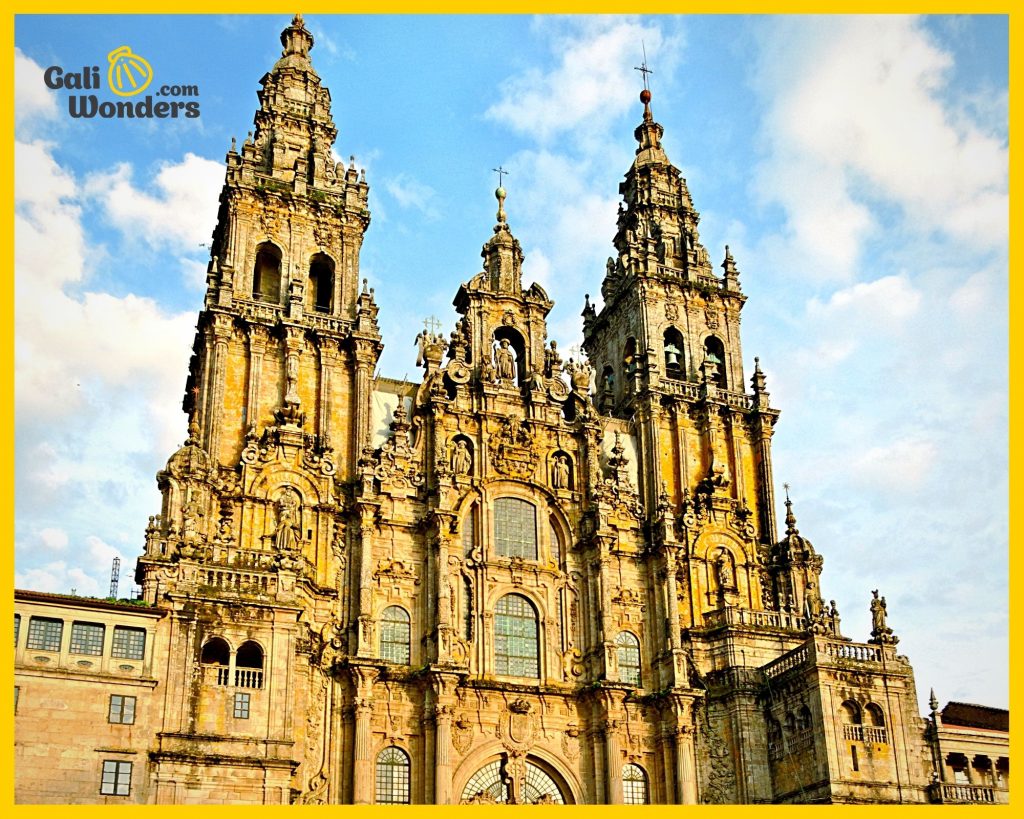 15. After a week on the road, being fitter than at the beginning 
Perhaps not everyone believes this to be true but the truth is that if you have already started your journey in good physical shape and moderately trained, the experience of walking a week in a row will help you feel better. Your legs may hurt a little after the first few days (that's why we always recommend stretching a lot at the end of each day's walk!) but you will find yourself in a kind of "flow", that is, your body will feel more comfortable. Your feet, legs and back will begin to recognize the terrain and you will enjoy it much more. To arrive as prepared as possible to your Jacobean route, do not miss our tips to for the camino.
16. Breathing fresh air in the middle of nature, what a luxury!
After the confinement that we had to live in the months of March and April of this year, to be outdoors is what we all wish the most. An experience in the middle of nature will bring you enormous benefits both physically and mentally. Many studies have shown how activities practiced in a natural environment, away from noise and air pollution, improve mood, have anti-stress effects, combat depression and anxiety and eliminate fatigue. What are you waiting for?
17. Make a friend for life
Whoever undertakes the Camino de Santiago most likely did so for similar reasons as you and that is why it will be easier for you to connect with other travelers along the Camino. We must not forget that the experience you are living can be very deep and that during the journey you will share intense emotions and thoughts. Therefore, it is very likely that the people you will cross on the way, and who travel many kilometers by your side, can become friends for life. A good reason to do the Camino, what do you think?

18. Knowing the history of an extraordinary country 
Spain is a very interesting country with an incredible historical past. Thanks to the many routes of the Way of Saint James, you will have the opportunity to get to know different regions and even other countries (if you choose to do the Portuguese Way or the French Way in full). To allow you to live this experience to the fullest, at Galiwonders, we advise you to stay a few more nights along your chosen route, so that you can discover the historical and cultural heritage of the cities you will be crossing. Live the route in its entirety and enjoy this extraordinary country!
19. You will not leave empty-handed, La Compostela is your souvenir of the Camino!
To motivate you to do the Camino de Santiago, we remind you that on your arrival in Santiago de Compostela you will be given the Compostela, which will certify that you have completed your journey. A perfect souvenir to never forget this wonderful experience. Find out where the Pilgrim's Office is and what you have to do to ask for your certificate of the Way.
20. Start over again
It is very common among pilgrims who end their journey in Santiago, want to follow a little more and travel the last stretch of the Camino de Finisterre. Whether you want to do it right after your journey or prefer to organize for another year, we assure you that it is very likely that at the end of your route you will like to walk more. Another route, another challenge and the same feeling of satisfaction at the end.
At Galiwonders, we help you create your trip in one of the routes of the Way of Saint James that you prefer. Contact us to create your tailor-made itinerary and Buen Camino!